Ian 'Thommo' Thomson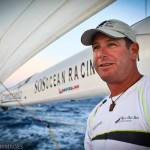 Director / Founder (Australia) – Info@OceanCrusaders.org
Ian founded Ocean Crusaders in 2010 after smashing the world record for the fastest solo circumnavigation of Australia by a massive 26 days. He used this record to launch the campaign and in turn raising his profile in the community so he could go and speak with people around the world on the issues our oceans are facing.
His passion for the ocean and it's creatures comes from being on the water and in the water most of his working life. Recovering dead turtles that have died from plastic bag ingestion brings him to tears yet he uses these images and memories to drive this campaign to ensure that no more end up with the same fate.
Annika Fredriksson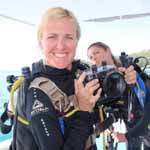 Australia/Sweden – Speaker/Promoter
Born just south of Gothenburg in Sweden, Annika grew up on the coastline with her parents teaching her sailing and a respect of the ocean.  She fell in love with the water and wanted more so started diving in 1992 before she became a Dive Instructor in 2003. Moving to Australia soon after, she found her new home on the Great Barrier Reef where she used her passion for the ocean to show tourists the underwater world.  Having developed a love for photography she now dives to capture the pure beauty of the oceans.  Her passion for sailing lead to a commercial skippers ticket in 2005 so she could continue working and living on and in the water.  Now an integral part of the Ocean Crusaders team, her primary campaigns are based around educating people about Beach Debris and why Balloons are not good for our environment.
Adrienne Carter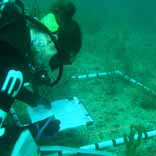 USA – USA@OceanCrusaders.org
Adrienne is the senior marine scientist at Coastal Eco Group inc. in Florida.  She met Ian on a visit to the Whitsundays where she learnt of Ocean Crusaders.  She immediately wanted an involvement and now runs the campaign in the USA for us.  Her dragon boat team regularly compete in races promoting the cause and she is also on the board of the Florida Environmental Professionals.
Adrienne is also behind the Ocean Crusaders club that is run out of Sacred Heart School in Lake Worth, FL with the assistance of Holly Andreotta.  This unique club is a trial of what we would like to set up more of in the future.
Amanda Gawor
Canada – Canada@OceanCrusaders.org
Amanda is a marine biologist who completed her masters in Environmental Science in 2013.  She met Ian whilst working in the Whitsundays for Wings Diving Adventures where she became even more passionate about the oceans as she learnt to dive, seeing the underwater world in all it's glory around the Whitsunday Islands and the outer Barrier Reef.  She now takes on the role as our Canadian Representative and is available to visit schools throughout Canada.
Rachel-Louise Bernhardt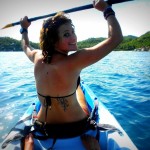 South Africa – r.l.bernhardt@live.co.za
Rachel is a Dive Instructor who is looking to study Marine Biology this year.  She met Thommo working on Wings in the Whitsundays, Australia. This is where she learnt to dive and became even more passionate about our oceans.  Rachel is determined to make a difference to our underwater world by pushing marine conservation throughout South Africa.  With all the controversy surrounding South African ocean tourism and in particular sharks and whales there is no place better for Ocean Crusaders to get our message out.  Rachel hopes that her love for the ocean speaks for itself in her instruction of scuba and she will use it as a platform to hopefully pass some of her passion amongst her students!   After all knowledge is key to protecting it!
'The ocean is a part of me. It is who I am. And I hope to ignite that same love in others.'
Isabel & Michael -I.M Recycled
Ambassadors – isabelromero79@gmail.com
Isabel (Ecuadorian/Australian) and Michael (Australian), after spending 8 months in Ecuador in 2014 and seeing how much rubbish was being washed on the beaches, created a project called I.M Recycled where they use plastic bottle caps found on their beach clean-ups to create doormats, placemats and other things to draw attention to the problem of marine debris in our oceans.  Since September 2014, they are living on their sailboat Ondular and travelling through the Caribbean with plans of returning to Australia one day.  On their journey, they continue to do beach cleans and spread the word about the marine litter crisis in our oceans.  They are organising and educational campaign in Ecuador where they will visit schools and give talks about plastic pollution and provide tips on how to reduce our negative impact in the environment.  They will also organise various beach clean ups in the month of January 2016 that will take place in some coastal towns in this country and that look to motivate people to take more action and create change.
Jamie Dunross
Ambassador – dunross@westnet.com.au
What can we say about Jamie. Calling him a dead set legend is just not enough. Jamie smashed the record for the longest distance sailed by a quadriplegic sailor as part of his circumnavigation of Australia……solo. Yes a guy who takes 40 minutes to get to the bow and back on a 34ft boat sailed solo around Australia. More impressive is his time. Whilst he did it with stops, if you only count his on water time he completed the voyage in 57 days, only 15 days slower than Ian's journey. He is an inspiration to all and has become an ambassador for our campaign.
To learn more about Jamie visit his website www.solo1.com.au
Sean Manchester
Ambassador – smanchester@me.com
Sean has always had a very emotional and physical connection to the ocean. Having grown up on Cape Cod Massachusetts, he spent the first half of his life on, in and around the water. Swimming, sailing, and boating in the summers, surfing and fishing in the fall, and whale watching in the spring. Now he's taking on the Clipper Round the World Yacht Race and is using the experience to raise awareness of our campaign. For every mile he raises he is trying to raise $1 for OC.  We'd like to see him sail all the way around the world but he needs help.  Let's get behind him and give him the opportunity to take our campaign global.
To learn more about Sean and the Clipper race visit http://www.manchesteroceanracing.com
Bruce Arms
Ambassador – svbigwaverider@yahoo.com.au
Bruce Arms is another of our ambassadors that comes from a sailing background.  Like Jamie and Ian, he has a passion for the ocean that has led him into a career of solo sailing.  He won the last two Solo Trans Tasman Yacht Races and in 2011 set the fastest solo circumnavigation of Australia for a multihull, also breaking Ian's outright solo record.  Bruce was project/voyage manager when Jessica Watson sailed into the history books as the youngest person to circumnavigate the world.  He is also a regular speaker at conferences where you can learn of his passion for the oceans.
To learn more about Bruce visit his website www.brucearms.com
Gina Prendergast
Speaker / Plastic Free Lifestyle Expert gina@plasticfreelifestyle.com
Gina and her young family made a 2011 new years resolution to live a modern life plastic free, and will continue doing so, making it a priority to spread the word on how easy it is for people to reduce new plastic in their lives. This action was born from seeing a number of documentaries on how plastics are harming our oceans, marine life and us. Gina has had different carers working in the Wellness and Finance industries, and always cared deeply for our environment – she graduated from the Centre of Sustainability Fellowship program in 2009, and became a select few to be apart of Al Gore's Climate Reality Leadership program in late 2010.
For information on how to reduce plastic please visit www.plasticfreelifestyle.com
To see media Gina has been involved in visit http://plasticfreelifestyle.com/category/media/
Geoffrey Bishop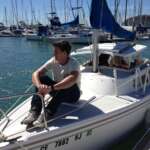 Founder 'Say NO to plastic bags in Orange County' Campaign     geoffmbishop@gmail.com
Geoff grew up and lives in Orange County California and has a great passion for the environment. He's currently a student at Biola University in La Mirada California, pursuing a degree in Environmental Science. Along with going to school, He volunteers at the Newport Bay conservancy leading weekend kayak tours; educating the public on our oceans. Another great passion of his, along with a lot of us, is sailing. He has been sailing for about a year and says he grows a greater passion for the sport and the ocean every time he set sails on the waters of Orange County. One of his life goals is to help protect and conserve the environment in every way possible. This is why he started the campaign "Say NO to plastic bags in Orange County."He hopes that with one small feat, others will follow and in turn, we can save this beautiful place we call home.
Dylan Kuipersmith & Kimberley Olsson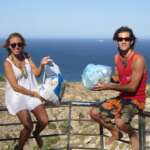 Founders of 'Crowd Clean World' Campaign
Dylan and Kim have both worked in the Whitsundays with Thommo and have a true passion for the ocean.  On their journeys around the world, they were sick of seeing so much trash lying around so started spending 15 minutes a couple of times a week to pick up rubbish.  It started as something small and now they want the world to catch on, and let's face it, 15 minutes even once a week is not a long time but will make a substantial difference if everyone got involved.  In Dylan's words 'Cleaning the world is a massive job. But if this idea was to spread, the concept of a "crowd" changes that. We have over 7 billion people in our world, and when a lot of people do a little each, a big job is done in little time and with little effort. '