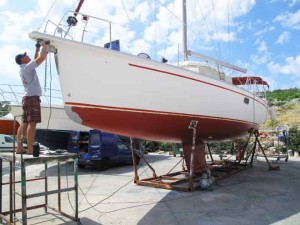 Our team have been around boat for over 20 years.  Ian has commissioned new boats, sailed them all over the world, worked on work boats, completed dredging operations and is not only a commercial skipper, but holds the solo around Australia World Record.  I guess you could say 'he knows boats!'
With all this experience, let us help you keep your pride and joy in pristine condition.  We can do anything for boats from managing a hard stand haul out, to washing it down on a weekly basis to ensure it is ready for your next trip.  We can clean bilges, interiors, steam clean your seats, service her winches, make her shine with a polish and run the engine weekly to ensure normal operation.  We can also organise any trades to come down and work on your boat, taking the hassle out of meeting them.  We have very good contacts with riggers, shipwrights, mechanics, hydraulic engineers and more.  Just let us know what you need and we will organise it for you.
We can even deliver your boat anywhere at any time.  We have successfully sailed our own boat from Croatia to Australia, an 84ft motorsailer from Palau to Townsville, numerous deliveries up and down the east coast and even a few up and down the west coast.  Any boat, any time.
To find out more simply email us or call us on 0412 932 808 to discuss your needs.  Visit our PRICING PAGE to get a guide to our fees and find out how to get a discount on our commercial services by donating to our Foundation that is out to protect our oceans from plastic pollution.