Ian 'Thommo' Thomson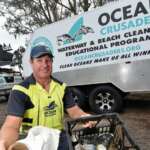 Managing Director / Founder (Australia) – Info@OceanCrusaders.org
Ian founded Ocean Crusaders in 2010 after smashing the world record for the fastest solo circumnavigation of Australia by a massive 26 days. He used this record to launch the campaign and in turn raising his profile in the community so he could go and speak with people around the world on the issues our oceans are facing.
His passion for the ocean and it's creatures comes from being on the water and in the water most of his working life. Recovering dead turtles that have died from plastic bag ingestion brings him to tears yet he uses these images and memories to drive this campaign to ensure that no more end up with the same fate.
Annika Thomson (Fredriksson)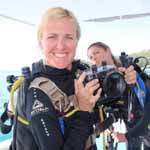 Australia/Sweden – Director – annika@oceancrusaders.org
Born just south of Gothenburg in Sweden, Annika grew up on the coastline with her parents teaching her sailing and a respect of the ocean.  She fell in love with the water and wanted more so started diving in 1992 before she became a Dive Instructor in 2003. Moving to Australia soon after, she found her new home on the Great Barrier Reef where she used her passion for the ocean to show tourists the underwater world.  Having developed a love for photography she now dives to capture the pure beauty of the oceans.  Her passion for sailing lead to a commercial skippers ticket in 2005 so she could continue working and living on and in the water.  Now an integral part of the Ocean Crusaders team, her primary campaigns are based around educating people about Beach Debris and why Balloons are not good for our environment.  She also works on our Swedish operations.
Mark (Captain Mud) & Maura Harvey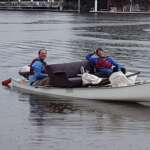 Noosa Management team (Australia)
Mark & Maura have several awards for volunteering to clean up our beaches and in particular the Noosa River and surrounds.  You will often find them in their 'Canoemaran' getting stuck into the mangroves and hard to get places, pulling out rubbish that most people would leave behind.  That passion lead them to us here at Ocean Crusaders and they now head up our Noosa regional operations running Paddle Against Plastic events and helping out with other major events such as Double Island Point and Fraser Island Clean Ups.
Chantal Clarke
Gold Coast Manager (Australia) – gc@oceancrusaders.org
Chantal Clarke has a passion for the water like no other.  She has previously run SUP Wilderness Adventures and had a welfare program to remote locations known as Two Llamas.  She now takes her passion for paddling to the lakes and waterways of the Gold Coast, to rid them of the debris that has been building up over the last 50 years.  She also has a lot of connections in foreign countries and will look to expand our operations into these countries with new programs.
Erol & Olivia Noyan
Geelong Managers (Australia) – geelong@oceancrusaders.org
We met Erol in the Whitsundays where his passion for the ocean was infectious.  He is a gentle giant with a heart of gold and together with wife Olivia, they head up our Geelong based programs.  Son Oscar will grow up loving the ocean and wanting to keep it clean for everyone, so the Geelong region are in safe hands.  Geelong is the gateway to Victoria's surf country and the need to keep the oceans clean is at the heart of most people in the region and Erol and Olivia are the people to make that happen.
Deb Nicholls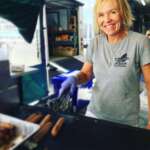 Marketing – marketing@oceancrusaders.org
Deb joined our team having seen our vehicle in the streets of Manly.  She wanted to help us get our message out and started with our BBQ's and slowly did more and more.  She is now heading up our marketing efforts to help us grow to the next level.  She is also a creative artist and is the maker of a lot of our mascots including McSalty Seagull (McDonalds straws) and Pelican Pete.  On the side she also runs a business in schools where students can make their own artwork out of recycled materials.
Maja Lidsheim-Haak
Sweden – maja@OceanCrusaders.se
Maja has a background of working for large charities such as Save the Children.  With our expansion into Sweden she was the obvious choice as she grew up with Annika around the ocean and wants to help the coast of Sweden be cleaner for all to enjoy, including the wildlife.  Every summer the family head to the West Coast to enjoy the islands and you often see the family picking up debris.  Growing our Swedish branch will be a great project for all and with Maja on deck, we know we are in great hands.
Adrienne Carter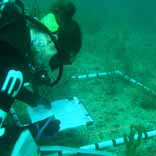 USA – USA@OceanCrusaders.org
Adrienne is the senior marine scientist at Coastal Eco Group inc. in Florida.  She met Ian on a visit to the Whitsundays where she learnt of Ocean Crusaders.  She immediately wanted an involvement and now runs the campaign in the USA for us.  Her dragon boat team regularly compete in races promoting the cause and she is also on the board of the Florida Environmental Professionals.
Adrienne is also behind the Ocean Crusaders club that is run out of Sacred Heart School in Lake Worth, FL with the assistance of Holly Andreotta.  This unique club is a trial of what we would like to set up more of in the future.
Amanda Gawor
Canada – Canada@OceanCrusaders.org
Amanda is a marine biologist who completed her masters in Environmental Science in 2013.  She met Ian whilst working in the Whitsundays for Wings Diving Adventures where she became even more passionate about the oceans as she learnt to dive, seeing the underwater world in all it's glory around the Whitsunday Islands and the outer Barrier Reef.  She now takes on the role as our Canadian Representative and is available to visit schools throughout Canada.
Ambassadors
Wendy Tuck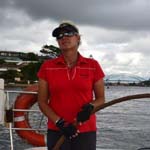 Ambassador – wendosailsheaps@gmail.com
Tucky is the first Female to win an around the world yacht race of any kind.  She is still the only female to do so.  She did it in the 2017/18 Clipper Round the World Yacht Race where members of the public can join in on the world tour racing against 11 other one design yachts.  We first Met Tucky in 2010 when we were putting together an attempt to sail around Australia non-stop.  She was to be part of the team before the attempt fell apart at the last minute.  She is an avid supporter of ocean health and is currently sailing the world on 'Maiden'.  On returning in November 2019 Wendo will head up our Sydney operations.
Stacey Jackson
Ambassador – staceyjack26@gmail.com
Stacey Jackson is an elite sailor and amongst the best in the world when it comes to offshore racing.  Having competed in the last two editions of the Volvo Ocean Race, Stacey put together an all female professional racing tam for the 2018 Sydney to Hobart Yacht Race coming second n Handicap.  The campaign was to raise awareness of the issue of marine debris and was sponsored by 11th Hour Racing.  As part of that campaign Stacey, a local to Brisbane and friends of Ocean Crusaders, organised a grant to support our efforts.  She is passionate about looking after her work place and backyard by keeping our oceans clean.
Andy & Gemma Ross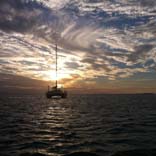 Ambassadors – peterpanandthemermaid@yahoo.com.au
Andy & Gemma are a passionate couple that are out cruising on their catamaran 'PAWS'.  You will see the Ocean Crusaders Logos on their cat as they are absolute legends when it comes to getting the word out there about looking after the oceans.  We first met them in the Whitsundays over 10 years ago and their passion continues with Andy recently helping out with our Sunshine Coast operations and Gemma being a vet nurse.  If they ever settle down, you will find them in central Queensland, possibly 1770.  If you see them on the water, drop in and say hello.
Jamie Dunross
Ambassador – dunross@westnet.com.au
What can we say about Jamie. Calling him a dead set legend is just not enough. Jamie smashed the record for the longest distance sailed by a quadriplegic sailor as part of his circumnavigation of Australia……solo. Yes a guy who takes 40 minutes to get to the bow and back on a 34ft boat sailed solo around Australia. More impressive is his time. Whilst he did it with stops, if you only count his on water time he completed the voyage in 57 days, only 15 days slower than Ian's journey. He is an inspiration to all and has become an ambassador for our campaign.
To learn more about Jamie visit his website www.solo1.com.au
Sean Manchester
Ambassador – smanchester@me.com
Sean has always had a very emotional and physical connection to the ocean. Having grown up on Cape Cod Massachusetts, he spent the first half of his life on, in and around the water. Swimming, sailing, and boating in the summers, surfing and fishing in the fall, and whale watching in the spring. Now he's taking on the Clipper Round the World Yacht Race and is using the experience to raise awareness of our campaign. For every mile he raises he is trying to raise $1 for OC.  We'd like to see him sail all the way around the world but he needs help.  Let's get behind him and give him the opportunity to take our campaign global.
To learn more about Sean and the Clipper race visit http://www.manchesteroceanracing.com
Bruce Arms
Ambassador – svbigwaverider@yahoo.com.au
Bruce Arms is another of our ambassadors that comes from a sailing background.  Like Jamie and Ian, he has a passion for the ocean that has led him into a career of solo sailing.  He won the last two Solo Trans Tasman Yacht Races and in 2011 set the fastest solo circumnavigation of Australia for a multihull, also breaking Ian's outright solo record.  Bruce was project/voyage manager when Jessica Watson sailed into the history books as the youngest person to circumnavigate the world.  He is also a regular speaker at conferences where you can learn of his passion for the oceans.
To learn more about Bruce visit his website www.brucearms.com