Mark (Captain Mud) & Maura Harvey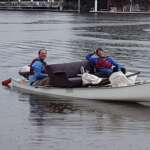 Noosa Management team (Australia)
Mark & Maura have several awards for volunteering to clean up our beaches and in particular the Noosa River and surrounds.  You will often find them in their 'Canoemaran' getting stuck into the mangroves and hard to get places, pulling out rubbish that most people would leave behind.  That passion lead them to us here at Ocean Crusaders and they now head up our Noosa regional operations running Paddle Against Plastic events and helping out with other major events such as Double Island Point and Fraser Island Clean Ups.
Chantal Clarke
Gold Coast Manager (Australia) – gc@oceancrusaders.org
Chantal Clarke has a passion for the water like no other.  She has previously run SUP Wilderness Adventures and had a welfare program to remote locations known as Two Llamas.  She now takes her passion for paddling to the lakes and waterways of the Gold Coast, to rid them of the debris that has been building up over the last 50 years.  She also has a lot of connections in foreign countries and will look to expand our operations into these countries with new programs.
Erol & Olivia Noyan
Geelong Managers (Australia) – geelong@oceancrusaders.org
We met Erol in the Whitsundays where his passion for the ocean was infectious.  He is a gentle giant with a heart of gold and together with wife Olivia, they head up our Geelong based programs.  Son Oscar will grow up loving the ocean and wanting to keep it clean for everyone, so the Geelong region are in safe hands.  Geelong is the gateway to Victoria's surf country and the need to keep the oceans clean is at the heart of most people in the region and Erol and Olivia are the people to make that happen.
Deb Nicholls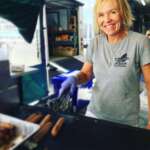 Marketing – marketing@oceancrusaders.org
Deb joined our team having seen our vehicle in the streets of Manly.  She wanted to help us get our message out and started with our BBQ's and slowly did more and more.  She is now heading up our marketing efforts to help us grow to the next level.  She is also a creative artist and is the maker of a lot of our mascots including McSalty Seagull (McDonalds straws) and Pelican Pete.  On the side she also runs a business in schools where students can make their own artwork out of recycled materials.
Maja Lidsheim-Haak
Sweden – maja@OceanCrusaders.se
Maja has a background of working for large charities such as Save the Children.  With our expansion into Sweden she was the obvious choice as she grew up with Annika around the ocean and wants to help the coast of Sweden be cleaner for all to enjoy, including the wildlife.  Every summer the family head to the West Coast to enjoy the islands and you often see the family picking up debris.  Growing our Swedish branch will be a great project for all and with Maja on deck, we know we are in great hands.
Lauren Badenhorst
South Africa – Lauren@OceanCrusaders.org
Lauren's love for the ocean started when she went snorkeling for the first time, putting her head underwater and seeing this whole other world in front of her was an incredible experience!
Seeing how much trash is in the ocean and the damage we have done to this incredible underwater world is what drove her to make the decision to help clean up the mess that we have made.
Every piece of trash we pick up or bag we fill with trash is that much less trash in the ocean.
Jamie Dunross