WELCOME TO OUR CAPS CRUSADE 
We all know that prevention is better than a cure, we learnt it at school, so Ocean Crusaders is working on a program to ensure plastic caps don't end up in the environment.  Instead it is recycled to create new products.  And you can help by collecting your own plastic caps and getting them to us via a 'CAPS CRUSADE CLUB' which sees schools or clubs receive bricks in return for their caps.
Our CAPS CRUSADE operates in SE Queensland only, where 2.5 million beverage containers are returned daily through the containers for change program.  30% of those are plastic bottles and 40% are being returned with their bottle caps on.  This needs to change.  You need to remove your caps, give them a quick rinse and save them up.  When you have a small collection, visit your local primary school or club who are members of the CAPS CRUSADE CLUB (NB: the CAPS CRUSADE CLUB is a new initiative and soon new schools and clubs that are members will be listed on our collections locations page)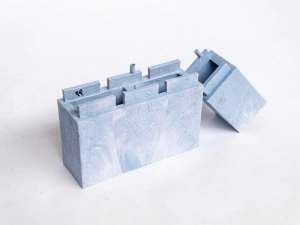 The CAPS CRUSADE is moving to a new phase where primary schools or clubs can become a collection point for caps.  If you are a Primary School or club associated with primary school aged children, you may be elligbile to join the CAPS CRUSADE CLUB.  See more details below.
When returning your caps to a CCC member, your caps will need to be sorted as per our below guidelines.  If returning to a CCC member, they will have a designated collection point.  Please make things easy for them and sort them into colors.
The benefit of donating your caps to a CCC member is that for every 10kg of caps provided, cleaned and sorted to Ocean Crusaders, we will return a brick to the club member to create park benches, bike shelters, garden surrounds or whatever they can create.  Bricks are created in all sorts of colors and through the system we are developing, schools will earn credits which will get them standard brick colors initially, however as they collect more caps they will get to choose from the color range with the ultimate bricks being the silver and gold bricks.
Each brick uses 1.5 – 2.0kg of caps with the excess caps being used to create additional bricks, beams and sheets which can be purchased to help fund the program.
PLEASE NOTE: CONTAINER EXCHANGE LOCATIONS ARE NO LONGER A COLLECTION POINT FOR US DUE TO THE HIGH CONTAMINATION LEVELS COMING FROM THEM.
SORTING GUIDELINES.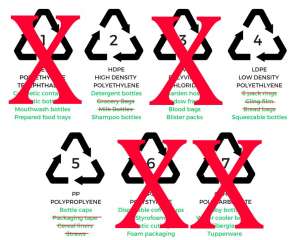 You can help us out by sorting and cleaning your plastic caps before giving them to us.  Here are some simple guidelines:
Separate into the following colors (White, Black, Dark Blue, Light Blue, Red, Yellow, Orange, Green and then all the others go together.
Caps need to be only LDPE or HDPE which are #2 & #4 on the recycling chart.  That is the number inside the chasing arrow triangle.  If it doesn't have a number and it is standard size, assume it is #2 or #4.
Separate #5 entirely.  Mixing #5 with the other two is not possible.  #5 is Polypropelene and is used in larger lids generally.
Remove any foam inserts from bottle caps – The foam inserts are loose pieces inside juice containers.  This does not include the expanded polyethylene that is molded into the cap.
Ensure they are clean – no contamination, no labels
Absolutely no metal, aluminium or foil.
Use boxes instead of plastic bags.  Plastic bags need to disappear from this world, take them to your local Red Cycle collection at your supermarket.
CAPS CRUSADE CLUB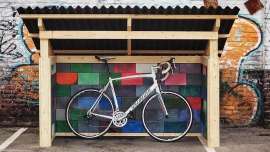 Do you want to earn bricks by collecting caps?  By becoming a member of the CAPS CRUSADE CLUB, your primary school or club can receive bricks to make creative things with.  The bike shelter pictured here is just a sample of things.  You can make park bench seats, garden surrounds, cubby houses and more.  Your imagination is your only limiting factor.  For information on how to create a structure visit here.
In order to become a Caps Crusade Club Member you must fill out the form below to register.  Then you simply start to collect the caps.  Once you have the caps, you need to make sure they are clean and then sort them into the colors as per our sorting guidelines above.  When you have enough, we will organise to get the caps to our facility and credit you for the weight of caps.  For every 10kg of caps provided, you will be credited 1 brick.  There will be a credit program for different colors which will be outlined in the near future.
To be elligible you must be a pre or primary school or a club for children aged up to 13.  Children's hospitals are also eligible as are special schools.  If you have a question, just email us here or if you have a great group and want to collect, but donate your bricks to a children's cause, then please email us.
NB: The CAPS CRUSADE CLUB is only open to schools/clubs and groups in SE Queensland for now.  That means north of the NSW border, East of Ipswich and south of Noosa.
(NB: More details on the CAPS CRUSADE CLUB will be available shortly.