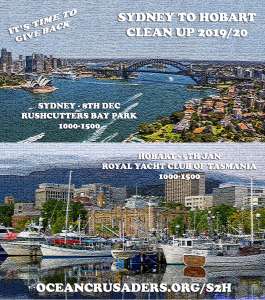 The Sydney to Hobart Clean Up is based around the two great cities that make up one of the world's most prestigious yacht races.  With this year being the 75th running of the Rolex Sydney to Hobart Yacht Race, we decided it was time to be involved and give back.  

Stage 1: Sydney Harbour is where the campaign begins, as does the great race.  On December 8th we will run a Sydney Harbour Clean Up to ensure this major harbour is looking it's best for the summers two activities that it is well known for, the race and the New Years activities.  Yachties, boaties, paddlers and groups are invited to play their part by selecting their own bay to go and clean.  Bags will be available to collect from our base at the Rushcutters Bay Park on either Saturday 7th all day or from 0900 on the 8th.  If you can return the bags to the same base by 1500, that would be fantastic.  If not please advise and we will arrange to collect them.  From 1400 there will be a get together in the park to discuss the outcomes of the day and do an audit on the debris so we know what it is we've been collecting.  We'll also get the group photo at 1500.   Please register for this event here.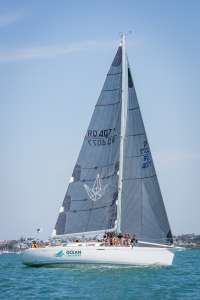 Stage 2: Come Boxing Day, the Ocean Crusaders team will be taking the start gun in the 75th Sydney to Hobart Yacht Race with our message clearly displayed on our sails….'It's time to give back, our oceans need you.'  Ocean Crusaders was founded when Ian sailed solo around Australia to break the world record and gain a profile in order to push our message, so close to 10 years on we hit the waters again in this epic race.  We won't be up the front with the million dollar yachts, we'll be in the field with the majority of the fleet who are your every day sailor.  Our mission is to finish and give some of our friends who have supported our campaign through the 10 years a tick on their own personal bucket list.  We're racing with good friends John & Laura Warlow on their boat which will be known as Ocean Crusaders Dodge Ball for the race.    You can follow us through the 'Yacht Tracker' on the official race website.
Stage 3: The Derwent River Clean Up will take place on January 5th with our base at the Royal Yacht Club of Tasmania.  With the Australian IRC Championships ending the same day, it will be a great spectacle at the club at the end of the day.  Once again the bags will be available all day on the 4th from the club or from 0900 on the 5th.  We are joining forces with Our Coast, Our Mission in organising this great event and once again, invite yachties, boaties, paddlers and groups to take part, selecting your own site to clean and bring it all back together at the club.  If you can't return the bags yourself, let us know and we will come and collect them.  Please register for this event here.
Funding for this campaign is not going to be cheap.  Getting all of our equipment down to Tasmania is going to be a huge expense at that time of year, along with participation in the race, so we are running an official Fundraiser to help cover costs.  We are looking for funding of all sizes from individuals and businesses.  To donate please visit the fundraising page here.
We're also seeking Sponsors who can get coverage in both clean ups and the race, or any combination of these.  We are seeking a naming rights sponsor ($25,000), along with smaller sponsorships $10,000, $5,000 and even $1,000.  Each of these sponsorships will gain recognition here, along with social media coverage and coverage on yacht.  If interested please contact us here.   Our mission is to raise $50,000, an essential goal to get our message out and conduct these major clean ups.
If you are involved in a clean up crew, or community group and want to play a part, please contact us and you could run a land clean or paddling crew or group of boats.  We need everyone to play their part to give back to the ocean that is our play ground but also the essence of all living creatures.
Current Sponsors