Welcome to our Caps Crusade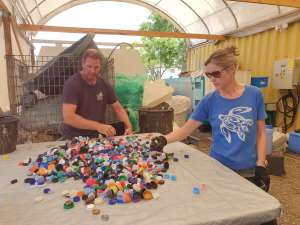 We all know that prevention is better than a cure, we learnt it at school, so Ocean Crusaders is working on a program to ensure plastic doesn't end up in the environment.  Instead it is recycled to create new products.  And you can help by collecting your own plastic caps and getting them to us via one of our select collection locations. 
The number one thing with plastic is PLEASE DON"T BUY IT.  The less we use the faster that manufacturers will find alternatives which are far better for everyone.  However if you do use plastics that contains lids, then you can collect them for us and we will find a way to ultimately re-purpose them.
Our CAPS CRUSADE operates in SE Queensland and we are now receiving up to 300,000 plastic bottle caps a day.  Yes that is a large number.  In SE Queensland, 2.5 million beverage containers are returned daily.  30% of those are plastic bottles and 40% are being returned with their bottle caps on.  You are encouraged to collect all of your caps, clean them and when you are returning your 10 cent containers, take them to one of our Select Collection Locations where you can put them in a receptacle before returning your containers.
They are then sent to use via Cleanaway who are generously picking the bags up and returning them to one central location where we can collect them.  .  Once we have them we then have a need to sort through these caps to ensure we only have plastic in them.  Some have foam inserts and we remove all metal and glass etc.  Then the raw plastic caps are granulated, returning them to a granule form that can then be used in injection moulding or extrusion machines.  (Refer Video at the bottom of this page) Hence we can make new items out of them.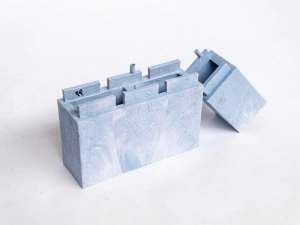 The biggest hassle with recycling has always been sorting & cleaning and together with Community Service Workers, Work for the Dole Programs, Back to Work Programs and volunteers, we will find a work force to do this for us.  And of course there is you too. You can help us out at any time.  We are always looking for people to help sort through plastics.  We have regular volunteer opportunities to come and help out.  Visit our events page and you can sign up for one of our volunteer days.
Our aim with the granules is to do one of two things.  We separate all of the white caps out and they will be used to make Crab Pot Floats that will eventually replace those horrible Polystyrene Crab Pots that break up and litter our waterways.  Secondly we are looking to make plastic bricks out of all the remaining granules.  These bricks will each contain 1.5kg of plastic so approximately 600 bottle caps.  The bricks will eventually be sold and the funds raised will help fund our cleaning operations.
You can purchase the floats through our Eco Store and support our cause.
Collect your caps for us.
We need your caps and if we get them sorted and cleaned then it saves us a heap of time and effort.
Maybe your school or club can create a collection point for us.  For more details email us.
How to sort your caps.  
You can help us out by sorting and cleaning your plastic caps before giving them to us.  Here are some simple guides:
Separate white #2 & #4 from all other colors – This is because white is the only color we can use for crab pot floats.
Separate light blue caps in one bag and red in another.  All the rest can go in one bag together
Separate #5 entirely.  Mixing #5 with the other two makes the plastic very elastic
Remove any foam inserts from bottle caps – The foam are loose pieces inside juice containers.  This does not include the expanded polyethylene that is molded into the cap.
Ensure they are clean – no contamination, no labels
Use boxes instead of plastic bags.  Plastic bags need to disappear from this world, take them to your local Red Cycle collection at your supermarket.