Clean Beaches are Better Beaches!!!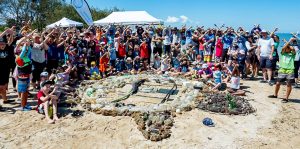 We treat our oceans like a garbage tip, so we shouldn't be surprised that the oceans eject the rubbish we throw in it, back onto the beaches and islands we love to use.
Littered along every beach in the world, are particles of plastic, either washed up or left by humans.  Sitting in the sun they degrade at an alarming rate, into smaller pieces that are a real threat to wildlife.  Birds feed from the high tide line, small crustaceans live in the area searching for resources, maybe a new shell for a hermit crab, or food for their starving bodies.
Ocean Crusaders clean beaches and islands so that our wildlife is safe and it happens to have a benefit to us humans as they are cleaner and safer.
Our community Beach and Island Clean Ups are usually large scale events.  We often join forces with other groups as many hands make light work.  We try to run events on an annual basis.  Events include:
k'Gari (Fraser Island) Clean Up – Ocean Crusaders conducts an annual clean up of this amazing island.  In 2018 900 volunteers removed nearly 7 tonne in just 6 hours.
Moreton Island Clean Up – This is a joint venture between many companies that run tourist activities on the island.  We clean the Eastern Beach – in 2019 we removed 1.97 tonne of debris.
Surfrider Foundations Double Island Point Clean Up occurs twice a year and we join them as we remove debris washed up and left by campers.
Green Island Clean Up (Moreton Bay) – is a regular clean up for Ocean Crusaders that sees volunteers head to the island for a morning of debris removal.
St Helena Island Clean Up (Moreton Bay) – sees volunteers clean the island and have a quick tour through the historic ruins before returning to the mainland where we host the Moreton Bay Environmental Expo showcasing all the local environmental groups looking after our bay.
To see what events are coming up click here.  For most events, bookings are essential to secure your spot.  For instance St Helena Island sold out over 3 months before the event date in it's very first year.
If you want Ocean Crusaders to clean a beach or island near you, contact us.