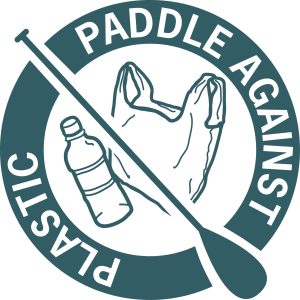 One of our key community events is our Paddle Against Plastic.  These events encourage people to come down and engage with their own waterways on paddle craft of any type.  We even have a fleet of kayaks provided by Aquayak Kayaks that we bring to the events so you can book one to use if you don't have a craft of your own.
It all started back in 2012 when four paddlers took on a challenge to paddle from Airlie Beach to Mackay, a distance of 120kms.  The campaign was to raise awareness of the issues of plastic in our oceans.  On the journey we stopped at a deserted beach for a quick clean up, picking up lots of plastic, most of it already degrading due to the sunlight.  This was followed up with a paddle on Fraser Island and then Katherine Gorge in the Northern Territory.
To read more on our Paddle Against Plastic mission of 2012, click here.
We now run large scale events including the following events that will continue to run on a regular basis:
Cabbage Tree Creek, QLD – 122 paddlers removing 1.41 tonne of debris
Moonee Ponds Creek – 107 paddlers removing 938kg of debris
Currimundi Lake Community Clean Up – 112 paddlers in 2018, 107 paddlers in 2017
Bulimba Creek – Multiple events at different locations including CUA Day annually
Geelong – Cleaning the Barwon River
Noosa – Off the Tewantin Ferry
Our favorite structure for an event is to make it a 3 day event.  We spend day 1 & 2 working with our core crew removing debris from locations that are difficult to access on paddle craft.  We use our boats and vacuum to remove tonnes of debris.  We then invite the public down on the weekend for the community part of the event, to remove easy to access debris and to see what has been removed from their waterway.
If you have a location you think needs a Paddle Against Plastic, fill in the form below with a bit of additional details and submit and Ocean Crusaders will work with you to make it happen.  We need funding to make these events happen, especially when we need to travel.  However in 2019 we plan to have a new fleet located in Melbourne that will service Victoria and South Australia, our Brisbane Fleet will service QLD and NSW and we are looking for a new fleet in WA too.
[cincopa AMJAb86O920L]