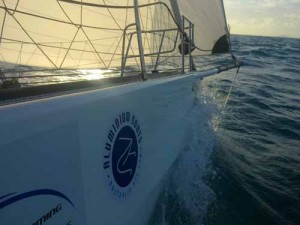 Sponsorship of Ocean Crusaders provides a unique opportunity to align your business with an environmental cause in a high profile campaign covering several countries.
100% of your sponsorship stays in Ocean Crusaders to run our events and keep cleaning our waterways and beaches.  No one takes a profit.
An opportunity to support a sound environmental campaign
An avenue to promote your products to the educational &/or marine sector
An opportunity to have Ocean Crusaders Founder Ian Thomson personally help you create a greener workplace and image for your company
An opportunity to have a world record holder and founder of Ocean Crusaders as a guest speaker at a function of your choice
An opportunity for coverage across the globe through all types of media, forums, online gaming site virtual regatta and other websites
An opportunity to go sailing onboard our ocean racing vessel with your team
Become a partner
We are now seeking partners to support our crusades.  We are seeking companies that:
Would like to make a difference
Would like to market their products to the educational &/or marine sector
Want to portray an environmental awareness to their clients or for their brand
Are looking to improve their own environmental impact in their office/workplace
Would like to support an organisation that is educating our youth on how to look after the oceans and our environment
Would like to support an organisation that is making a difference every day to the impact we have on our oceans
A partnership, not a sponsorship
In return for your financial support, we will work with you to create environmental awareness for your brand/company, promote your products within the primary education &/or marine sector and will be available for inspirational/educational talks to your clients or staff.
The Cost
Contact details
Ocean Crusaders – Ian Thomson (founder)  info@oceancrusaders.org  +61(0)412 932 808