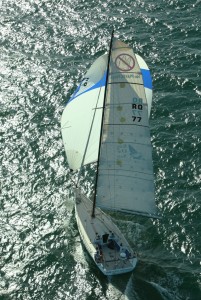 Formed in January 2010, Ocean Crusaders Pty Ltd (Formerly Save Our Seas International Pty Ltd) is out to create a difference in our world by educating people of the issues our oceans face.
Founder Ian Thomson launched the campaign by smashing the solo circumnavigation of Australia record. By creating a profile for himself he in turn created awareness of the cause.
Ocean Crusaders free online education program is a resource available to teachers and parents world-wide, to download and present to their students/children.  It educates them of about the oceans, the creatures in them and the hazards they are facing with an emphasis on giving them ideas on what they can do in their every day lives to make a difference.
The greatest issue our oceans face is that the world is unaware of the problem we are causing. The convenient plastic bag and plastic products are everywhere and no one thinks of where they are going. Humans slaughter thousands of dolphins, turtles and sharks and hundreds of whales every year with little knowledge of what damage we are causing.
With representatives across the globe and growing constantly, our education program is a unique learning tool and available to everyone free of charge.
In the future we endeavour to sail around the world, visiting every place we can, having locals show us the best and worst diving locations and beaches, upgrading the lessons for that country with local footage and statistics and then presenting it free of charge to the education department.
Clean Oceans make us all Winners!!!!