Donations allow us to keep doing what we do best, cleaning our oceans, waterways and beaches.
Our fleet of boats and vehicles that enable us to complete large scale clean ups are not cheap so every little bit helps. A donation of as little as $5 can make a difference.  That would buy us 3 sets of gloves for our clean ups or a couple of bags, or help us get our equipment to the events.
Below you can donate on a one of basis, regular giving, give a donation as a gift or create your own fundraising campaign for us to run an event in your area or just simply support our cause. You can even contribute towards one of our major campaigns.
All donations are now Tax Deductible.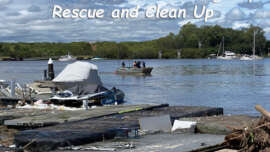 The recent SE Queensland Floods have seen a shocking amount of debris enter our waterways.  Brisbane River is the most highly publicised, but every waterway has been effected from the Sunshine Coast to the Gold Coast.  We need to get to them all and the only way we can do that is with funding to keep our crew and boats on the water.
We're aiming to raise $50,000 so we can get a kick start into the clean up whilst we await funding from government organisations to come our way.  We believe the effects of these floods will be here for well over a year, however we will do everything we can to remove as much as we can, as quickly as we can. To donate, click here.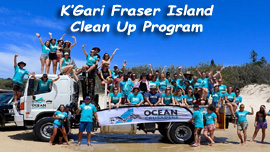 Ocean Crusaders, together with K'Gari Fraser Island Adventures are committed to protecting the World Heritage listed island and that means cleaning when it is needed.  Whilst we have regular events, we are raising funds to get a team up there when it is needed, like the current flooding event that is throwing more debris at the island than ever before.
We endeavour to raise $50,000 a year minimum to allow us to do this vital work and keep the island clean for all visitors and those that live there, includingt he magical wildlife.  To donate click the photo or here.   
Other Donation Options