Mark (Captain Mud) & Maura Harvey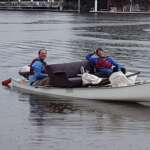 Noosa Management team (Australia)
Mark & Maura have several awards for volunteering to clean up our beaches and in particular the Noosa River and surrounds.  You will often find them in their 'Canoemaran' getting stuck into the mangroves and hard to get places, pulling out rubbish that most people would leave behind.  That passion lead them to us here at Ocean Crusaders and they now head up our Noosa regional operations running Paddle Against Plastic events and helping out with other major events such as Double Island Point and Fraser Island Clean Ups.
Trish Finucane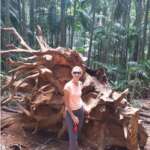 Marketing – marketing@oceancrusaders.org
Trish has been friends with founders Ian and Annika for a very long time, back to the days of the Whitsundays where they have worked together many a time.  She now joins the team bringing with her ample amounts of enthusiasm and skills to help make us look more professional and look after our marketing.  She will be involved in organising events, chasing grants and funding along with keeping on top of our paperwork, which is an important role in a fast growing charity.
Maja Lidsheim-Haak
Sweden – maja@OceanCrusaders.se
Maja has a background of working for large charities such as Save the Children.  With our expansion into Sweden she was the obvious choice as she grew up with Annika around the ocean and wants to help the coast of Sweden be cleaner for all to enjoy, including the wildlife.  Every summer the family head to the West Coast to enjoy the islands and you often see the family picking up debris.  Growing our Swedish branch will be a great project for all and with Maja on deck, we know we are in great hands.
Lauren Badenhorst
South Africa – Lauren@OceanCrusaders.org
Lauren's love for the ocean started when she went snorkeling for the first time, putting her head underwater and seeing this whole other world in front of her was an incredible experience!
Seeing how much trash is in the ocean and the damage we have done to this incredible underwater world is what drove her to make the decision to help clean up the mess that we have made.
Every piece of trash we pick up or bag we fill with trash is that much less trash in the ocean.
Jamie Dunross