Ocean Crusaders was formed in 2010 to raise awareness of the damage to our environment through the use of plastics and plastic bags.  Initially the campaign ran under the banner of SOS Ocean Racing.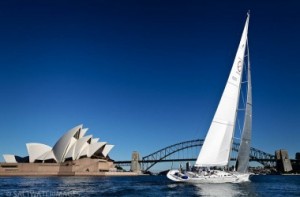 In 2010, founder Ian Thomson, set a new world record for the fastest solo circumnavigation of Australia when he took in excess of 26 days off the standing record.
Continuing the campaign, in July 2011, solo multihull sailor and OC Ambassador Bruce Arms attempted the same record on his catamaran Big Wave Rider, completing the course in 39 days and setting a new world record for the first solo multihull circumnavigation of Australia.
Now Ocean Crusaders turns a new leaf.  Whilst our OC Racing Team will continue to race on the water in major regattas, our Sailing Crusades will focus on educating the world-wide sailing community of the need for ocean users to change their habits to ensure our oceans are clean seas for the future.
Our Ocean Racing Team will undertake more campaigns over the coming years however they are more likely to be cruising rather than racing with a focus on capturing the true story of what our oceans are facing.