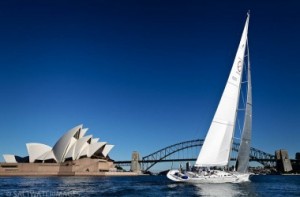 Ocean Crusaders was formed in 2010 to raise awareness of the damage to our environment through the use of plastics and plastic bags.  Initially the campaign ran under the banner of SOS Ocean Racing.
In 2010, founder Ian Thomson, set a new world record for the fastest solo circumnavigation of Australia when he took in excess of 26 days off the standing record.
Continuing the campaign, in July 2011, solo multihull sailor and OC Ambassador Bruce Arms attempted the same record on his catamaran Big Wave Rider, completing the course in 39 days and setting a new world record for the first solo multihull circumnavigation of Australia.
No more records are planned for the future due to the cost of such an attempt.  Instead funds will be focused on our education program.  But of course we will be sailing still.  Locally we will also be sailing our Thompson 7 Sport Yacht 'Ocean Crusader'  She's light and fast and taking Darwin by storm challenging the keel yachts for line honors and usually beating them.
Whilst ocean racing may seem tough, the race to save our oceans is a much tougher and longer race and that is our priority.