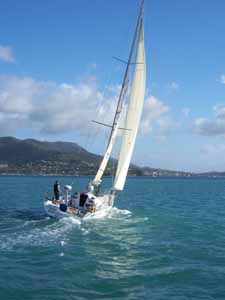 The previous record for the fastest solo circumnavigation of Australia was 68 days, 8 hours, 30 minutes set by David Beard of Brisbane. In 2010 a new record of 42 days, 5 hours, 33 minutes was set by Ian Thomson, cutting an impressive 26 days off the previous record.
The boat used was a Welbourn 12m with the record setting off from Airlie Beach on May 5th, returning on June 16th to a fantastic welcome from Ian's home town and yacht club, the Whitsunday Sailing Club.
Ian used this record sail to launch Ocean Crusaders and has published a book about his experience titled Dare to Dream which is available for download and in hardcopy through our EcoStore.
By achieving the world record, it gave Ian the profile to visit schools as students now look up to Ian as someone who is in the Guiness Book of World Records, meaning the message is listened to with great affect.