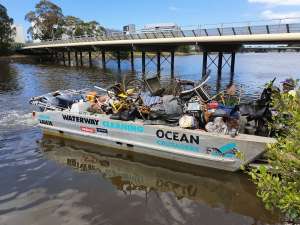 Ocean Crusaders spend our entire working life removing debris from waterways across Australia.  In an 11 day clean up recently of the Cooks River in Sydney, we removed an astounding 13.8 tonnes of debris.  The fact we probably missed 95% of the debris that was heading to Botany Bay is heart-breaking, but we can only do so much.
So what does this have to do with sailors?  Well a lot to be frank.  If we can't respect our oceans and set an example, how are we meant to expect people, who live nowhere near the ocean, to clean up theirs.
I hear it all the time about how cruisers have seen so much debris and how 'shocking' it is.  I spent 10 minutes talking with someone once about the topic in the Caribbean and then later that day I saw him walking back to his boat with his shopping, in a plastic bag, with an empty backpack on his back.
You would think that major events like the Rolex Sydney to Hobart Yacht Race would jump at the opportunity to make a statement, especially with their 75th anniversary event.  We offered to run an entire campaign based around the event, offering to do everything for them.  Their response was that they were too busy dealing with the boats.  How can you be too busy when we are offering to do everything to enhance the race?  Maybe it is the fact they don't really have a sustainable policy that is suitable.  I mean the start boat was seen piling cases of single use plastic water bottles onto it in the lead up to the race.
A month ago I gave the Cruising Yacht Club of Australia the opportunity to respond to my concerns.  All I have been met with is total silence.  So my next step is to bring these concerns to the public, not only so they can realise they need to take us seriously, but so others can learn.  And this is not just about the club, this is about the 2,000 odd sailors that were in the race too.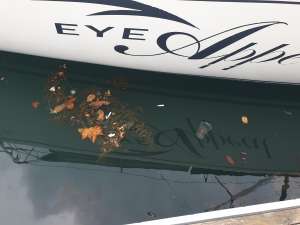 In the lead up to the race, there is a lot going on at the club.  But they didn't think about the massive impact that all these sailors wold have on the facilities.  Rubbish bins were over flowing, often blowing into the water, recycling bins were few and far between, meaning lots of recycling was going into general waste and the amount of debris floating around the club was amazing.  The below image is ironic in a way when the boats name is EYE APPEAL!!!
I have been told they are installing 5 Sea Bins which is a great start but they can do so much more.  You can get companies like Tomra to supply bins for the container deposit scheme and raise funds for youth sailing, or whatever else you want.  They do everything for you, you just collect the money.  This would free up other bins for real rubbish.  We have a collection system at the yacht clubs/marina's in Manly Queensland and it raises around $10,000 a year.  It takes one call and a meeting and it all happens.  It's not hard.
At the crew party, we were gutted to see plastic glasses being used.  O.K I hear you say, drunk people will result in a lot of glass breakage.  So how do you explain them using glass upstairs all night?  We even pointed out to the staff that they should put an ashtray out the side of the club as people were smoking out there and leaving their butts on the ground, ready to wash into the marina with the next rain.  Their response was that it wasn't their responsibility as it is outside their grounds, yet just along the wall is a pile of milk crates where their staff have lunch.  Again, it is not a great deal of effort to make a difference, yet they choose to ignore the problem.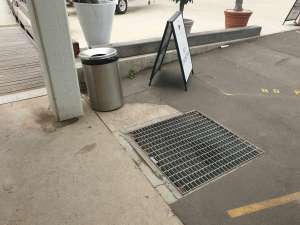 I mean, who smokes on a yacht and actually throws their butts in the water these days anyway?  Well there are still plenty, including a delivery crew member on one of the maxi yachts that on return to the club was walking back to the bar, paused near a drain to finish off the cigarette and then threw his butt into the drain….that leads directly to the marina.  On fronting him, his response was that they have moved the ashtray that used to be there.  Really, are people that stupid that they can't take a few more steps and find a bin.  Funny enough, the bin was hiding behind the post right next to the drain.
So my frustration continues to grow in the lead up when boats were rolling trolley loads of single use plastic bottles down the docks.  Seriously, hasn't the time come to realise there are options.  In fact I wrote an article that was published in several media outlets.  It was titled 'How to be debris free in the Sydney to Hobart'.  It was offered to the race for their website and never appeared, even though there were no articles written for 2 days after submitting it.  Again, it seems they just don't care.
But the biggest issue was in Hobart.  Being so big, the race spilled over into Constitution Dock.  As part of our offer, we wanted to collect the rubbish off every yacht and find out what it was so we can offer advice on how to further improve on the impact we have on Hobart when we arrive from NSW.  So to have 50 odd boats tied up in Constitution dock, with no additional bins was just an absolute insult.  Instead the yachts just piled their rubbish up next to the existing community bins.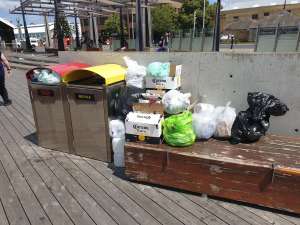 So when a big storm came through that closed the marina, Taste of Tassie and the race village, guess where all these bags ended up.  Yep, we spent most mornings in fact scooping debris out of Constitution Dock.  We even saw a tax funded boat campaign celebrating their race achievements and off the back of the boat was a steady stream of cans and bottles.
So as part of our Derwent River Clean Up hosted by the Royal Yacht Club of Tasmania (they care), the dive crew from University of Tasmania removed 780kg of debris from Constitution Dock as part of our entire river collection of 1.5 tonnes in just one morning.
It's quite simple really, we are failing our oceans and until we actually make changes, our oceans are going to keep getting trashed.  It takes everyone to take action.  If you are old and set in your ways, like I was told the members of the CYCA are, well how on earth did we end up drinking water out of plastic bottles in the first place.  75 years ago they didn't have this option so you drank out of the onboard tanks.  Maybe you rewind a bit and realise we actually used to be better at this….until we got lazy.
Yes, this is a rant, but you need to understand what we are doing to our oceans.  I have seen it first hand, having looked into the eyes of a dead turtle that had died because of plastic.  It broke me, but it is why Ocean Crusaders exists.  In 2019 we removed 82 tonne of debris from Australian Waterways.  That's 225kg every day of the year, of plastic bottles, polystyrene and food packaging.
I challenge any of you to come and spend a day with us on the water as part of our hardcore cleaning team.  It will change the way you look at things.  I know that many of you will just shrug this off and go back to your luxury lifestyles where you can pay others to clean up after you but the fact is, when you throw stuff away, it never goes away.  Every bit of plastic ever created still exists in some form.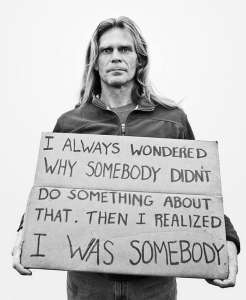 Our oceans need your help.  Are you willing to make a stand?
To join our clean ups, visit our Facebook site www.Facebook.com/OceanCrusaders and check out our events.  We will be on the Georges River from March 4-10.  After the floods it is in a diabolical state so we need more hands to make a greater impact.
If the Volvo Ocean Race can have a 'No Single Use policy' as we saw in the last race, then surely every club can make the changes.  It just takes someone to make a stand.  Together we can make a difference and every little bit counts.
Be the club that leads the way, be the yacht that goes plastic free, be the person that cares.
Ian Thomson
Founder
Ocean Crusaders Foundation LTD