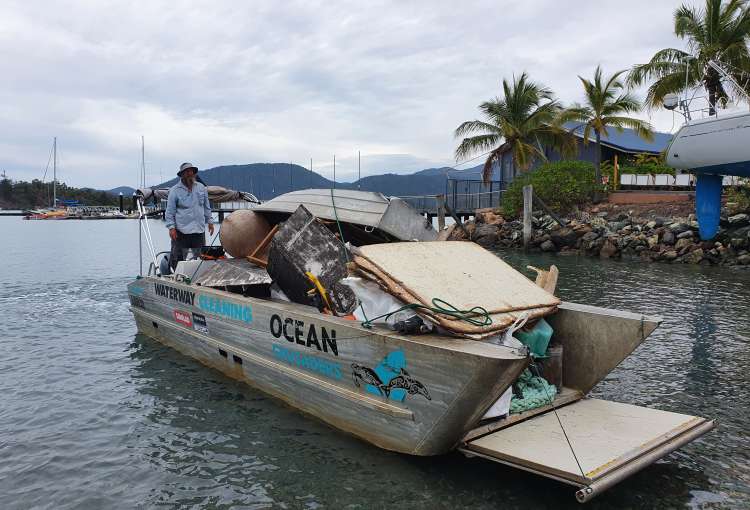 In 2018 we had the privilege to skipper a charter yacht for Annika's family in Phuket.  On that charter we saw a need for major cleaning of the islands and we worked hard with Sunsail to organise what was to be the world's first Clean Up Flotilla to take place in Phuket.  COVID decided to change our plans, but not our enthusiasm to make this happen so we quickly changed the location to the place where Ocean Crusaders was founded, the amazing Whitsundays.
Working with Sunsail Whitsundays, Whitsunday Rent a Yacht and Whitsunday Getaways we managed to put a fleet together and we were stoked to have 40 people play a part.  We had 3 owners bring their own boats, 3 boats chartered from the Sunsail/WRAY fleet and then there was Whitsunday Getaway II who were amazing in helping us with logistics for the all-inclusive vessels.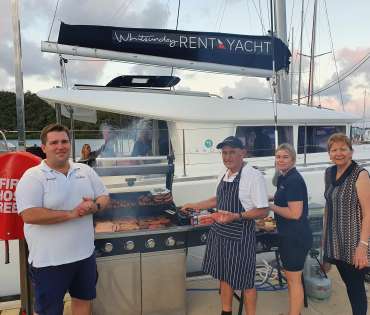 The event kicked off with a welcome BBQ at the WRAY docks at Shute Harbour and the feast put on was of epic proportions.  No one went hungry and no single use plastic items were used at the BBQ with every boat using their own plates and cutlery etc.  Everyone stayed on their boats that night so we could get an early start in the morning with the plans to head south to Lindeman Island.
The reason we were running the event late in the year was to hopefully get northerlies as it is the Southern beaches and bays that get hit the hardest with debris.  Day 1 and the fleet sailed down Long Island sound where the blue fin tuna were hitting up smaller prey and the water was stunningly clear.  Everyone arrived at Lindeman by early afternoon however I personally took Salter, our cleaning barge, and long time volunteer Sally on a lap of Shaw Island to see what we were facing.  Let's just say, 'We need a bigger boat'!
That afternoon we split the boats with some going to Neck Bay for a clean up and the other half the next bay north whilst a small crew headed for a beach on the bottom of Maher Island, the island at the northern tip of Shaw.  The advantage of Salter is we don't mind beaching it on rocks to access places that need cleaning.  This became a huge factor in our event as we soon found out that the local clean up crews and cruising yachts had done the main clean ups on the beaches, however every rocky, coral covered beach that you don't want to take a tender into was in horrific condition.
Day 2 dawned and the fleet jumped aboard the private vessels to transfer around to the southern side of Shaw Island for the day with Salter as the work boat hitting the rocky beaches and it didn't take long and the boat was filling, way too fast.  The majority of the crew went into the largest bay and cleaned where we had seen a half-buried glass over ply catamaran, whilst Salter went on missions with different crew cleaning the hardest hit beaches.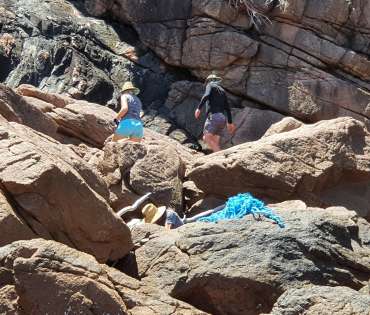 The last mission of the day for Salter was to go and get an aluminium boat that had been pummeled into the rocks and sat about 30m from the water and 10m up.  With eager volunteers, we had soon emptied out the pumicestone and had the boat on Salter, so we decided to hit a beach next to it that looked to have a bit of debris.  With the boat almost full, we soon ran into a problem.  I couldn't see it from the boat, but at the top of the main beach there was a pit of plastic which the team advised we got about a quarter of and the boat was full and the crew exhausted.  Heading back to the main beach and the crew had most of one hull of the catamaran out and then lots of other rubbish including a large mooring line from a tug boat.
We all headed back to the flotilla at Lindeman and rested for the evening.  The following morning and Mad Mud Man Mark (out of his element with no mud) and I headed back with Salter to empty the boat into a skip provided at Shute Harbour by Whitsunday Regional Council whilst the flotilla headed to Hamilton Island for a well earned pitstop.  Hamilton Island supported us by allowing the yachts to stay free of charge for 4 hours to top up water and provisions and the crew to enjoy the pool and facilities of the island.  Everyone had a wonderful time and if it wasn't for the need to get to the next bay, I think they'd still be in the pool at the swim up bar.
As the fleet headed around to Chance Bay, I took a detour to a bay I saw some unusual color on just around the corner from Cats Eye Bay on Hamilton Island.  What you see from a distance is half the story of what is always there, and soon enough I had collected 3 bags but had made a decision I needed more hands to get the job done.  The amount of hard plastics broken down into smaller pieces was staggering.
Anchoring in Chance Bay we saw what we believed to be a blue barrel in one of the rock crevasses.  So with everyone anchored I grabbed Annika and we headed over to have a look.  We were soon calling on extra helpers when we found a pile of 32mm tow line which probably weighed about 300kgs.  It had been washing around on the rocks and small shreds of the rope were everywhere.  We managed to roll it out with three of us and then Annika pulled it out into the water using Salter and then Mark managed to slowly get it up the door.  Lucky the door has a winch on it as he could winch it on using the door and then pull it over and into the boat.
The next morning and 6 of us went back to the beach I had been on the day before and finished cleaning it before breakfast.  After breaky I took another crew with me to Haslewood Island as I wanted to check out the main southern bay, whilst the rest of the flotilla headed to Whitehaven Beach.  We really did get the raw end of the deal, however our  discovery was a small creek in behind the mangroves and our 3rd boat for the trip to be dug out. It took 6 of us an hour of digging to free up this fiberglass hull remain and then lug it the 150m to the boat.  At one stage there was 5 people in a line dragging the boat like a dog sled.  The satisfaction of having that out of the environment was fantastic and it made our next stop at Whitehaven all the more enjoyable.
At Whitehaven the crew were having a ball in the pristine waters, paddling around on SUP's and kayaks and just swimming in the perfect waters.  It really was epic, as usual.  We then headed to Hill Inlet and ate on the way with the crew swiftly walking to the lookout and back.  The stories of amazement at the beauty of the place just beamed from everyone upon return.  We soon headed off to Border Island to check out Pitstop (SW side) however the tide was too low to access the beaches so we opted for a snorkel in Cateran instead.
In the morning Annika lead a team pre-breakfast to Pitstop and came back with a bulk bag of rubbish and a S/S fridge surround from a fishing I boat I think.  We then headed off to Mackerel Bay as we had one last mission for the crew.  You see I started Ocean Crusaders because of the turtles I found that had died from plastic ingestion in my time as a skipper up there.  I had to show everyone what we were protecting and in Mackerel, you can almost guarantee a swim with these majestic creatures, and sure enough, there were there in their numbers.  As we anchored, 4 of them, yes, that is not a typo, 4 little turtles surfaced right in front of the boat as if they were welcoming us home.  The rest of the morning people snorkeled, paddled and dived this amazing site.  Whilst the reef is still recovering from recent cyclones, the turtles are worth every cent you pay to go to the Whitsundays.
That afternoon we shot off to Nara Inlet for the night as the next day we had to head back to base.  Early on the last morning the team headed up to the Aboriginal Cave Paintings and then it was time to sail home and the winds were perfect.  Unfortunately the trip was over way too early so we bid our farewells and went our separate ways with so many good memories.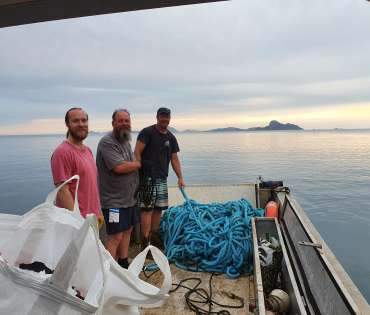 As this was our first ever Clean Up flotilla, we knew there would be a lot of learning to be done.  The main feedback from everyone was they wanted to clean more.  Whilst Salter worked her butt off clearing 2.2 tonne of debris, we could've done more if we had a bigger boat, or more boats, so we will debrief and in 2021 when we head back, we will be bigger and better and from all reports, the Whitsundays community want to be more involved.
The main thing for us though was that everyone can play a part.  If you are out on a yacht in the islands, clean up a little.  Even if it means putting it up above the high tide in a pile for someone to pick up.  If you do this, let Queensland Parks and Wildlife know, or call your local clean up crew.  If we are to protect what we all want to go and enjoy, then we all have to play a part and that also means stopping it at the shop.  If you buy it, even if you think you are doing the right thing, there is the potential for it to end up in mother nature.  Floods, cyclones and severe storms can take everything on shore and throw it out to sea.  So the only way to guarantee that your debris doesn't make it out and potentially kill marine and bird life is to eliminate it.
We have to say a huge thank you to our sponsors for this flotilla.  To James and the crew at Whitsunday Rent a Yacht and Sunsail Whitsundays, without their support, it would be a lot of swimming.  I can tell you it is the first time ever I have been on a bareboat charter where nothing went wrong with any of the boats.  To Hamilton Island Marina and the island itself for hosting our pitstop, what a great place.  To the Whitsunday Regional Council who provided our skip bin which we filled with 20 cubic meters of debris, it was so nice to have no hassles and have a council wanting to play a part.  And finally to Richard and Veronica on Whitsunday Getaways, with out your boat and your help, we would still be shopping for the food.
The final word is that no matter where you live, the Whitsundays are a magical place to visit any time of the year.  A few people said it perfectly, think globally, act locally and we here in Australia, need to clean our own back yard first and foremost.  A lot of people blame the rubbish on foreign ships or the countries up north, however looking at the debris, the majority of the debris we removed was Australian.  We have to stop blaming others and look after our own country and that will take every Australian to play a part.
After all, A CLEAN OCEAN WILL MAKE US ALL WINNERS.
You can follow Ocean Crusaders adventures at www.facebook.com/oceancrusaders and check out all the videos and photos of the flotilla, or go to www.oceancrusaders.eventbrite.com.au and follow us to get notifications of new events, including next years Whitsunday Clean Up Flotilla.