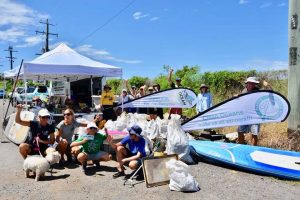 There are some days that you walk away from an event just shaking your head, and that happened at yesterdays Paddle Against Plastic at Bulimba Creek in Hemmant.  So close to Brisbane city and a major tributary into the Brisbane River, the state of this creek is simply DIABOLICAL.  

In the two days leading up to the Paddle Against Plastic event, Mark & Maura Harvey headed out onto the creek in their 'Canoemaran' and collected a staggering amount of rubbish.  Canoe load after canoe load kept coming ashore and Mark says he reckons he's only collecting 25% or what's there as when there's a low tide, the rubbish strewn along the mud flats is excessive.  It was everywhere, caught in the mangroves, floating down the middle, up on grass banks, there was no escaping the debris.
Sunday morning saw a fleet of paddlers on surf skis, SUP's, canoes and kayaks hit the waters and again, load after load of debris kept coming back.  I took to the water myself for a change and seeing the debris floating up the middle was one thing, but what is caught in the mangroves is another.  The work required to get it all out will be major.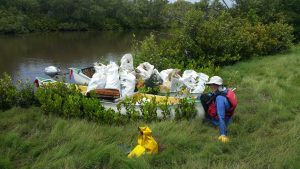 However our volunteers took it in their stride and came back muddy from top to tail with grins from ear to ear.  Our volunteers are amazing people and I cannot thank them enough for their efforts.  Event the shore team who cleaned up came out of the mangroves covered in mangrove mud.  The ladies on the sorting table had dirt mustaches and everyone was having a great time and lots of laughs.
Brisbane Council had organised a skip bin as it was all part of Clean Up Australia Day.  I think they better learn that when Ocean Crusaders do a clean, don't send a small skip bin.  We could've filled it three times.  To give you an idea of what we collected, here are some numbers:
1.32 tonnes of debris
128 straws
122 toys
352 plastic bags (can't wait till they are banned)
621 plastic bottles (bring on the container deposit scheme)
152 Aluminium cans
188 balls
59 household furniture items
61 thongs
Our next plan is to chase funding to conduct a thorough clean up of the creek and install some debris booms, however everyone has a role to play.  We must reduce the amount of debris we are using so there is no risk of it heading to our waterways.  We will also have a Paddle Against Plastic even south of Minnippi in the coming months so stay tuned for details on that.
But we did make an impact.  At the end of the day, the waters were a lot cleaner and that is all thanks to our amazing team of volunteers.  Thanks for your awesome effort.
[cincopa AsIABNOBNUsG]