On Saturday night, the Darwin Sailing Club had it's annual end of season presentation night.  The Ocean Crusader sailing boat had another successful season racing in Division 1 this year, however no major trophies to report on.  However we did manage the following results of note:
1st NT Championships
2nd Harbour Series 1
1st Classic Series
1st Shell Island
1st East Point Regatta
1st Old Man Rock
1st Cock of the Sea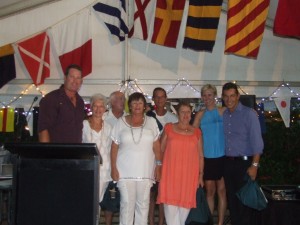 The presentation also gave me a chance to thank our volunteers who have helped us empty the trailer.  It is not the most pleasant job but the team on the right have given their time to complete the task and help us raise the money and awareness.  We can never thank our volunteers enough.
It also gave me a chance to speak of our campaign amongst the sailing community and for the first time I was able to let the club members know exactly what we do.  They had seen our container collection scheme, but most did not know how big a program we run with our education program running world-wide. The response afterwards was unbelievable as members were surprised when I announced we had gone into over 15,000 schools around the world this year.
The sailors from Rotakat, a group organised through rotary that take underprivileged kids sailing, organised a quick hand around on their table and came up with a $105 donation for our cause.  It was really surprising to see how much of an impact we had.
And then today I received the type of email that simply makes me smile.  It was from young minnow sailor Samuel Brownscombe.  To quote his e-mail 'Please come to the Essington School, Darwin. It would be great to have everyone to be conscious. I am a minnow sailor from the Darwin sailing club. Please come. It would be awesome. Thanks!!!!!!'  It is certain that we will do everything we can to get to the Essington School ASAP.
The container deposit scheme has already raised almost $7,000 with 70% going to junior sailing at the club and the remaining 30% to OC.  However it is doing more than that.  It is creating awareness of the need to recycle and as Ed Vincent commented to me recently, 'The program is really having an impact on the way people think.  I've seen people's habits change significantly.'  This along with nearly 70,000 containers recycled, this program has certainly been a huge success.