For many years Australian towns fought for the right to be Australia's Tidiest Town. Keep Australia Beautiful for the last two years has awarded the Territories Tidiest Town to Titjikala which is south of Alice Springs and has a community of approximately 250 people. In my opinion, Darwin could well take out the title of Australia's dirtiest town.
I run Ocean Crusaders, an education program that teaches our youth to look after our oceans. One of the big things is keeping debris out of our oceans. A recent survey predicted that there are 5.25 trillion pieces of plastic debris in our oceans and with over 100,000 marine creatures and 1 million sea birds dying from plastic suffocation and entanglement every year, it has it's issues. This is not taking into account the ocean acidification as the plastic breaks down. When you take into account that the ocean produces 60-80% of the world's oxygen through its algaes and plants, or more importantly for territorians, 95% of large fish stocks in the oceans have plastic inside them, shouldn't we start to try to make a difference so our next generation has a better life, or are we too lazy?
Most evenings my partner and I, along with some friends go for a walk along Mindil Beach. Most Territorians will say the debris on our beaches comes from Indonesia however what we pick up is not foreign. After most weekends you will find plenty of bait bags, sauce sachets, forks and knives and other debris that clearly comes from Darwin. All the debris from the harbour washes out and plenty of it wraps around and ends up back on Mindil with the onshore breezes of the wet season. So one would think that the main culprits here would be Stokes Hill Wharf and Fishermen. We now take bags with us so that on the off chance there isn't a Woolworths bag on the beach, we can still pick up the rubbish. Our best effort was 7 bags and that was 2 days after Clean Up Australia day.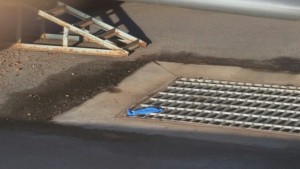 But it's not just the general public. Wasteful litter is evident everywhere. This morning I walked from Stuart Park back to my home in Larrakeyah. Passing Kerry's Holden and underneath one of the cars, perched precariously close to one of the drains was an old balloon. Next stop, the ocean. Next I got to Bridge Toyota and in their used car lot there were three cars in a row with exploded balloons and ribbons attached. Do balloons really sell cars? To me I hate them. They use valuable helium which is running in short supply and the medical world has a better use for it and they obviously create debris. The balloon enthusiasts would have you believe they are latex and that they will degrade at the same rate as a fig leaf. Well a fig leaf takes 4 years to break down and in order for it to take the shape of a balloon they need to add oils and most have colors. And a fig leaf will take 4 years to break down. I say, if you won't feed it to your dog or kids, then don't let it out in nature where turtles, dolphins and birds will eat them thinking it's food.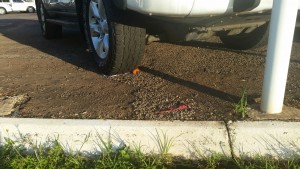 I won't get started on cigarette butts other than to say the two most common excuses for dropping a cigarette butts I here are 'I'm not the only one' or 'Others do it'. The best excuse was a young lady in the Coles carpark in town who said that a man was paid to pick them up, I used to work in this building so I know!! The filters are plastic and if you found a turtle that just happened to have 12 cigarette butts in its stomach, along with a water bottle cap, half a coke can, and a plastic bag to collect it all in, then maybe, just maybe you would think differently.