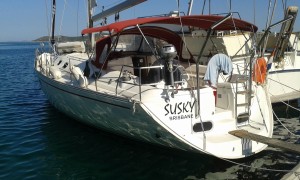 It is not often we get new additions to our team but we now welcome on board 'SUSKY'  She is our new yacht that will carry our campaign around the world for the next year.  Whilst we actually took ownership of her in late June, we did not pick her up until the 24th July when we flew into Croatia after our wedding in Sweden.  She was lying in Grabastica which is a small town between Sibenik and Split.
The boat is a Dufour GS 43.  The GS stands for Gib'Sea which was a range made specifically for the charter industry.  Everything is beefed up a bit and they are very spacious.  We have the 4 cabin layout, although the front is not the standard 2 cabins you get on most boats.  It actually has a 'V' berth forward and then on the starboard side is a twin bunks cabin.  Head is to port.  The bulkhead is removable and the bunk can turn into a settee making it one big master berth which we of course have done as it is our home for the next year.
The saloon is very spacious with lots of seating and then there are two guest cabins aft with a shared head.  The galley is to port.  Outside and you have a huge cockpit with twin helms and a center table.  This is where we will be living most of the time.  We have fitted davits to the back to hold a tender and have a new mainsail as that will be driving us as we sail around the world.  Waiting for us in Greece is a heap of additional gear including watermaker, dive compressor, generator, dive gear and a new spinnaker.
We knew that the boat would need some work so we haven't posted anything on her until now.  We have just spent a week on the hard stand completing a work list including anti-foul, cut and polish hull, clean interior and fix a few little gel coat issues.  We have been around the boat with sanders and polishers so many times but the effort was worth it as she is now shiny once again.  We both slept really well each evening and our shoulders are enjoying the rest now.  She is now back in the water at Grabastica where are staying at Barba Kum Bar & Grill.  It's a cool little spot for only a few yachts.  The owner, Zultan and his wife run a little bar and grill.  Zultan is also heavily involved in the charter industry here owning a few yachts so every Friday/Saturday he has turn overs.  We hardly see him but they are so helpful.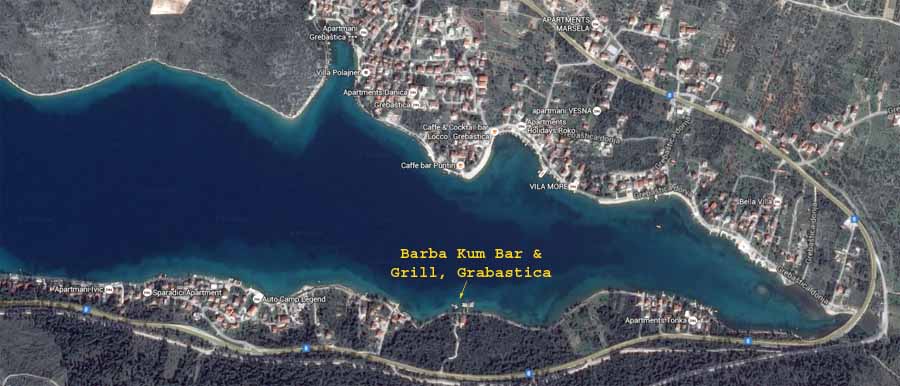 Our plan from here is to finish a list of smaller jobs whilst we wait for our Australian registration to come through.  Hopefully that will be mid to late this week and then we will set sail for Greece so we can get the rest of our gear.  We then head out across the Mediterranean towards Alicante and out through Gibraltar Straits to the Canary Islands where we prepare for the Atlantic Crossing to the Caribbean where people can start to join us for diving and exploring adventures.
You can find out more about our yacht on a dedicated page on our site and you can track our progress via our Predictwind Tracker
Keep checking back as we will use our news pages as our blog as we travel the world on a crusade to change the way people treat our oceans.