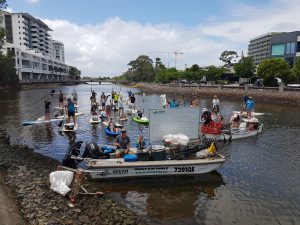 Courtesy of a sponsorship from the team at Ocean Addicts, we held a very important Paddle Against Plastic event yesterday out of the Ocean Addicts SUP hire center at Cotton Tree.  Rather than just your simple clean up, this time we had a message to spread, and that was the statistics of how much debris our team pulled out of Sunshine Coast Waterways in 2017.
Ocean Addicts made available 40 of their fleet of SUP's to the community and with patchy rain forecast, we had no idea how many people would front up.  As start time rolled around, the crowd began to form and by 0910, we had a briefing as rain poured down.  Shortly after a team of 63 paddlers and one dog hit the waters, heading to Cornmeal Creek which runs through the Sunshine Plaza, and over to Goat Island.
Cornmeal Creek is notorious for trolleys thrown into the waters by kids on the weekends.  Well they didn't let us down with 11 trolleys pulled out in one morning.  From our regular cleaning we don't always see the trolleys in the deep, however plenty were discovered by people on their SUP's, trolleys we have often missed.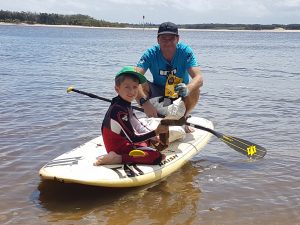 I caught up with Ocean Addicts owner Luke King and his son Ryder on the way back to the beach and he thought it was quite clean.  However when you have 63 paddlers (and 1 dog) all you need to do is pick up a few items each and it all starts to add up.  So when you add it all up and it comes to 187kg of small items and 220kg of trolleys, it turns out to be a massive day.  And it was the usual suspects once again, 312 cigarette butts, 321 plastic food wrapping, 118 plastic bottles, 109 foil wrappers and 63 straws.  There was even an office chair, 2 deck chairs and a broken umbrella found.
The statistics we wanted to promote was the fact the Waterway Cleaning team had removed 15.7 tonne of marine debris from inland waterways of the Sunshine Coast in 2017.
132,695 Individual items removed
12,023 Cigarette Butts

7,732 Plastic Bottles

3,897 Glass Bottles

5,929 Straws

3,997 Aluminium Cans

6,641 Plastic Bags

1,537 Bait Bags
The ultimate goal is to educate people to make choices when buying products as refusing plastic is the first step to cleaner waterways.
A special thanks to the team at Ocean Addicts for their amazing support.  They turned up early to fin up 40 boards, helped people who had never paddled before get comfortable and then joined in on the clean up.  Without their support the event would not have taken place so please visit them in store or at the beach hire outlet and get out on the water to help clean up and simply enjoy what the wonderful Sunshine Coast has to offer.
[cincopa AEMAaP-OhQX5]