Adrienne Carter has been busy pushing Ocean Crusaders in the USA.  Part of her campaign was to work with Holly Andreotta in starting the very first Ocean Crusaders Club.  This club has been formed at the Sacred Heart School in Fort Worth Florida.  Things have been a bit busy here at OC recently but finally I have had a chance to get the info and photos from their December meeting up online.  Here's what Holly had to say about the event.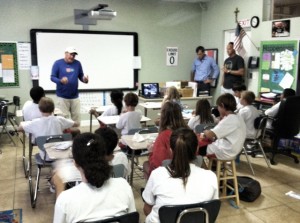 The Ocean Crusaders Club Dec meeting went really well today. I've never seen our club members so excited. Today was an intro to fishing with the Snook and Gamefish Foundation. Danny and Brett from SGF joined us. Danny, as always, was energetic and caught everyone's interest.  He showed members how to properly bait a hook using DOA lures and talked about the importance of not littering and cleaning up after those who do litter. Brett was a big help with providing paper replicas of fish species so that members could learn how to properly measure and identify fish and then practice logging the information on reusable Angler Action forms. We then discussed the importance of going online to upload that data on www.angleraction.org or using the new free phone app (iAngler). 
We distributed our club t-shirts, DOA lures donated by DOA, Angler Action forms and posters donated by SGF, and water proof cell phone cases donated by Florida Department of Environmental Protection (FDEP).
If you are interested in starting your very own club, contact us for more details.