The original plan for the Naish Paddle Against Plastic was to paddle from Mackay to Airlie Beach on a southerly however with the long range forecast predicting northerly winds, a change has been forced upon us as there is no way any of us 4 paddlers want to battle into the wind for the entire duration.
In addition to the winds, the main support for the paddle has come from Hamilton Island in the form of Sunsail kindly providing us a sailing vessel from their luxury fleet free of charge to act as a chase boat and also Outriggers Hamilton Island chipping in some money to allow us to visit the school on the island.  So a new plan has been formed as per below.
We will now depart Airlie Beach on Friday at 2pm.  We will be departing from the beach next to the lagoon in Broadwater Drive.  We will be on the beach from 1pm for interviews and photos.  We will then Paddle to Hamilton Island that afternoon passing through unsafe passage and down the west coast of Henning before pulling into the Hamilton Island Marina around 6pm-ish.  We will be pulling up at the Sunsail Marina office for those on the island who wish to greet us.
On Saturday morning we will now be departing at 4am to catch the incoming tide.  We will then paddle to Mackay Harbour, with an anticipated arrival time of anywhere between 6pm and midnight, pending conditions.
To keep up to date with what's happening on a regular basis, follow us on Facebook
The paddle is all about raising awareness of the issues plastic pose to our oceans and our health.  Run by Ocean Crusaders, the cause is simple, plastics are killing us and our oceans.  The tidal wave of plastic in the oceans is now believed to be big enough to cover Australia 3m deep.  Just because you can't see it doesn't mean it's not there.  Most of it is now the size of plankton, the smallest living creature in the oceans.  With 46,000 pieces of plastic in every square mile of ocean, we need to stop using plastic and find alternatives before we have an ocean of plastic rather than water.
The main issue with our convenient lifestyle that uses plastic for almost everything is that we are poisoning ourselves slowly.  Plastics have been found to cause so many growing illnesses like Autism, ADHD and Cancer.  Quite simply, anything we consume that comes packaged in plastic is threatening our very health, heating things in plastic is a definite no no.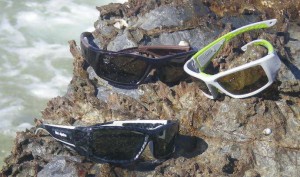 We are still seeking supporters for this campaign.  Our mission is to raise $10,000 so we can visit every primary school in the region to educate them with our Education Program.  We have already raise $844 so we are on our way however to visit all schools we need to reach our goal.  You can donate by clicking here or e-mail us if you are a business and require a tax deductible receipt.  Donations can be as little as $2 and you go into the draw to win one of 6 pairs of Barz Optics Sunglasses valued at $150 each.
NB: All four paddlers will be covering the entire 65nm disctance of the paddle (15nm Airlie to Hamilton Island, 50nm Hamilton Island to Mackay Harbour)  There has been some confusion with people thinking it was a relay.  The Saturday trip is believed to be the longest non stop SUP distance travelled in Australia to date.
Plans are still subject to change as the weather is extremely important to the success of this paddle.