Queensland Conservation is running a campaign to make February a plastic bag free month.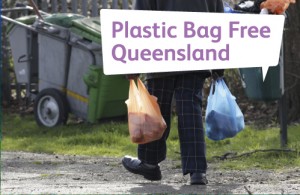 Plastic bag litter kills wildlife, clogs landfill, and squanders fossil fuels.
In Australia, SA, NT, and ACT have all banned single-use plastic bags. Around the world, countries including Bangladesh, Nepal, China, South Africa, Botswana, Eritrea, Kenya, Ethiopia, Rwanda, Somaliland, Tanzania, and United Arab Emirates ban plastic bags. Many European countries charge a tax on plastic bags, including Ireland, France, Germany, Belgium, Denmark, Macedonia, and Italy.
Support for a ban in Queensland is growing.
Say no to single-use plastic bags
Bring your own re-usable bag when shopping
If you must take a plastic bag, make sure it's made from compostable plastic
Encourage retailers to stop using disposable plastic bags.
Support shops that provide alternatives.
Tell your elected representatives you want these bags banned.
Help your local community become plastic bag free.
Join us during Bag Free February. During the month of February, swear off single-use, non-compostable plastic shopping bags. See how easy it is to kick the plastic bag habit.
Plastic Bag Free Queensland Resources:
For more details and to make a pledge to go plastic bag free visit Queensland Conservations website by clicking here.