Welcome to our blog for the Plastic in the Pacific Crusade.  If you missed the earlier editions please use the category search in the footer to go back and read them.  They are listed under Plastic in the Pacific.  Over the coming year we will be writing regularly of our adventures and what we are seeing.  In this article we write about our visit to Barbados.
Barbados was on our destination list for three main reasons. First of all it is the closest island to the Canary Islands, so why pass it. Secondly, a friend of mine from the old windsurfing days in Maui, Hawaii lived there and finally it was the home of Mount Gay Rum, our favorite rum which is drunk in abundance in Airlie Beach, our former home town.
We had arrived at 0245 the night before and had pulled up a mooring out the front of the Barbados Yacht Club. A light swell was rolling around the point but we had slept really well. Coming out on deck to see lush green vegetation and crystal clear azure waters was awesome and the smiles appeared on our faces immediately. A quick swim was had and by 0700 we were off to the main deep water port to check into the country. On the way over we saw a cruise ship approaching so we hurried in to try and check in before 2000 people landed on the doorstep of Bridgetown.
The check in process was easy, although tying up in the port to massive ship fendering wasn't too easy. They really don't cater for small ships very well. I headed off and quarantine (Health) was completed quickly. Then over to customs which too was quick and simple. I headed downstairs to the final stop which is Immigration only to be told I had to come back after they had attended the cruise ship. Missed it by that much, as the famous Maxwell Smart would say. So I went to the duty free shop and bought a litre of Mount Gay Rum which cost me US$11.05. One thing in Barbados that was to our advantage was we were Australian and hence we had cricket in common. Being a cricket fan, it was cool to talk with these guys about cricket and they loved it too.
So I headed back to the boat and we cleaned up a bit, filled out the paperwork for immigration and then I headed back at 0915 and shortly afterwards we had cleared into the country. We steamed back over to Carlisle Bay and anchored out the front of a place called 'the boatyard', which we later found out was a young people's hangout where they played loud music all day. We went in to get a drink and a bite to eat but they told us we needed to spend US$20 per person minimum to use the facilities, so we found a little bar called Cococabana where it was quiet and we could get on the internet. Our priority was to get our guest some accommodation for that evening so she could leave the boat. We achieved that. Whilst sitting there the lady behind the bar had a shirt on saying 'I keep Barbados Clean.' We were at home. We had already seen the beaches were a lot cleaner than the Mediterranean.
We asked if there was a mooring we could use and they accommodated us with one out the front. We had hoped to be able to pick up their wifi signal from the boat but it was very weak so we weren't successful. We went back to the boat and got Zuzana's things and said our farewells as we loaded her into a taxi to take her away. Getting back on the boat with Annika and we were relieved that that episode was over and we had our boat back to ourselves. We spent the afternoon cleaning and swimming and relaxing. We also drank a few rums.
The next day we checked out what they call the careenage, a protected canal in amongst town. We didn't want to go in there with our yacht, but we wanted to check it out anyway. It was really dirty and right in the heart of town which meant road noise, no ability to swim off the back and we couldn't get water till the next day anyway. We found a grocery shop and bought a few supplies before spending the afternoon back on the boat catching up on computer work and our social lives.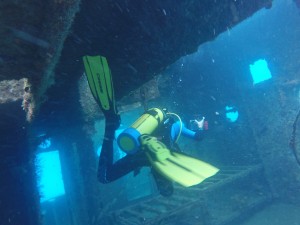 One of the big tourist attractions in Bridgetown is to dive with the turtles and on the wrecks. These are right in Carlisle Bay amongst the anchored yachts. The water is only 7-10m deep and we dived the wrecks several times over the days. They were awesome. One was an old trawler that had been converted into a party boat so had seats all around the stern and lots of toilets down the side and you could penetrate the wreck and get into the engine room and wheelhouse etc. It was actually my first penetration into a wreck and I thought it was awesome. The main highlight of the diving was the amount of life down there. All sorts of fish, moray eels, shrimps, turtles, it was epic. It was therefore surprising when we found out that it wasn't protected at all. It was frowned upon by locals to fish there but there was no legal argument to stop you.
After two nights in front of Cococabana we went to the yacht club and they offered us a 1 week honorary membership and the boatmen found us a mooring we could use free of charge, so we moved over to the front of the club once again. The color of the beaches and water was unbelievable, a real paradise. We felt it safer to leave our tender on the beach in front of the club rather than the bars further down the beach.
One of the things we needed to do was to get 4 dive tanks hydro tested and our emergency O2 filled as we hadn't been able to ship it full or get it filled in Europe. We found a place that was a 3.8km walk away and with little funds and two good feet each we decided to walk. It was a hard walk up the hill towing along the 6 tanks but we got there and they were able to fill the O2 immediately but we would have to go back 2 days later to get the 4 dive tanks. Thankfully our Keen shoes were up to the task, it made the walk very comfortable but also the walk gave us a chance to see Barbados, the real part, where houses are as colorful as the people.   When we got back to the beach we found our tender totally deflated. It had heated up in the sun and the cones at the stern of each side had popped out as the glue melted. The boat guys allowed us to use a hard tender for the night so we could go back to the boat and attempt a repair. Our attempts at repairs were a failure. It is really hard to repair this area on an inflatable. So we now had a 'deflatable'.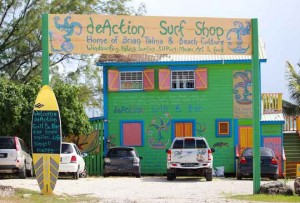 My birthday just happened to fall whilst in Barbados and I wanted to go check out Brian Talma's 'De Action Shop.' Brian was my windsurfing friend from Maui. Unfortunately he wasn't on the island as he was in Maui for the Aloha Classic. Brian is passionate about the ocean and keeping your culture. He actually runs the Beach Culture World Tour which is aligned with the Professional Windsurfers Association and the Beach Culture World Champ is crowned at the end of the season to the person voted by their peers as the one who is the most friendly and sportsman like on the beach and water. He paints and his art is awesome, usually depicting marine life in bright colors. The guy is a legend in Barbados and his personality is truly fitting to this place. It was a real shame that Annika never got to meet him. We went to his shop for the day and then in the evening had an awesome meal at the Tiki Bar as a storm rolled through. Sitting right on the beach under cover watching the lighting was very cool and a great birthday for me.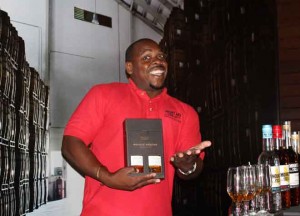 The following day we decided to check out the Mount Gay Rum visitor center. This is a must do in Barbados. We started walking out to the place as we thought it was just past the cricket ground and the light towers looked close. Half way out a taxi pulls over and offers us a lift but we say no, wanting to save our money. They say, get in and he dropped us off at the visitor center free of charge. It seems to be the way with these people, they really are so friendly and can't do enough for you. We go on the tour which starts with a rum punch and then you have shots of the rum at the end. It is a really great tour, not just because of the rum, although that helps. Annika wanted to get a Mount Gay red hat for a friend who runs the Rum Bar in Airlie Beach. Red hats are earnt in sailing regattas, they are not simply given out. As a non yachtie he has never been able to get one but serves a lot of Mount Gay to us sailors. And who could refuse the request from a gorgeous blonde Australian/Swede. Of course she got the hat and even had it signed. We now have to deliver it in person.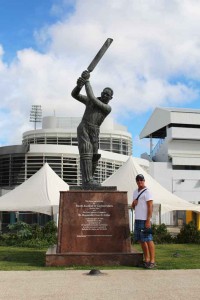 On the way home we visited the Sir Garfield Sobers statue at the Kingston Oval. For those that don't know cricket, Sir Garfield Sobers is arguably the greatest cricketer of all time. Of course I got a photo next to his statue and then off to the cricket museum where they had stories of him and other local Barbados cricketers who had made the West Indies Cricket team. If you aren't into cricket you probably won't appreciate it, but I loved it. I have a lot of respect for the West Indies players of the 80's and 90's. It seems these days they are all about the money and aren't the force they used to be in world cricket. It's a shame as they used to have the best fast bowling attack in the world to compliment some amazing batting talent. I hope they get those days back, it will be good for cricket.
On the way home from there we stopped at the big fresh food market and one of the biggest surprises was we couldn't find tomatoes. They were so hard to find and the ones we did find were small and green and cost a mint. The main streets of Bridgetown are awesome and you will constantly get asked if you want a taxi. The best way to get around the main routes was with the busses or shared vans. You pay BDS$2.50 each way and it is a great experience. Groceries here were ludicrously expensive. Whereas a packet of chips in Spain was AUD$1, here they were AUD$6. And that was just the start. The local beer was cheap and the rum was even cheaper. At the rum bars, they actually give you 80% rum and 20% coke as the coke is more expensive than the rum. No wonder the people are happy.
Cleaning the bottom of the boat one day we noticed a hairline crack at the front of the rudder. We had felt a shudder in the rudder on our trip across and seeing this hairline crack worried us as we had a long way to go to get home. The last thing you want to do is drop a rudder in the middle of the Pacific. So we started to make plans to get it fixed. We wanted to drop it out and fix it but there were no facilities here to do it so the plan was to get to Grenada to get it fixed. We also had some other issues we needed fixing on the boat and with no real chandleries here, we couldn't do much. So we needed to get to Grenada soon to do the work.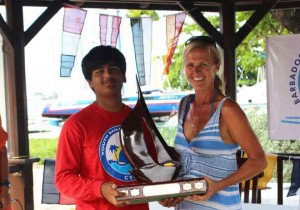 On the second Sunday that we were there we got invited to come and talk to the youth of the yacht club who had their final event of the nationals on that day. We went in for presentation and Annika got asked to present the big trophy for most improved. She was stoked. We both got a chance to talk to the youth and adults about our campaign and they had a good knowledge of some of the issues but were surprised when we told them about Japan killing dolphins and providing others for Dolphin shows. One young guy was talking about turtles and plastic bags and then says he fishes on the wrecks sometimes. Again, still surprised that locals would do this and that the government would allow it. Will definitely write them a letter one day of our thoughts.
We wanted to see a lot more of the island but the cost of renting a car for the day was out of our price range and catching busses was a bit hard to see the whole island. With the need to fix the boat we decided to head off to Grenada earlier than we would have liked. We didn't want to leave, we really wanted to spend more time here as the people are awesome and the place is beautiful. After 9 days in Barbados we checked out and set sail on an overnight sail to Grenada, 145nm away. But Barbados had one last impression in store for us. Just 20nm off the coast, we nailed a beautiful tuna with our upgraded fishing kit. Happy days. We were having fresh tuna for dinner for the next two days.
In our next edition we sail to Grenada for a few repairs and a bit more diving.
Ocean Crusaders are out to change the way people treat our oceans.  Our online education program is free to download at www.OceanCrusaders.org/education where children can learn of the issues our oceans are facing and how they can make a difference.  The Plastic in the Pacific Crusade is about educating the South Pacific Islands, finding out what is happening in these islands and updating our programs.  You can join us in the Pacific and see for yourself what we do.
Ocean Crusaders Plastic in the Pacific Crusade is proudly supported by: Cressi Dive Gear, Gill Marine, Keen Footwear Australia, Barz Optics Sunglasses, Maxsea Navigation Software, Digital Diver Cairns, LED Dive Lights Australia, Boat Names Australia, Predictwind Weather & Sail-world.com
[cincopa AoKAtGdV6Cgu]