Welcome to our blog for the Plastic in the Pacific Crusade.  If you missed Part 1, click here or Part 2 click here to go back and read it.  Over the coming year we will be writing regularly of our adventures and what we are seeing.  In this article we write about how we purchased our new yacht.
Having purchased our new yacht in Croatia, the next thing was how to kit it out for what we wanted to do. That included diving and the ability t take guests with us. We also had a lot of sailing equipment from when I previously had owned a 42ft Yacht so the question was, do we buy all the extra gear in Australia, or do we get it when overseas.
I did some research into the cost of freighting goods over to Croatia and found the prices quite reasonable. It would be easier to ship the goods from Australia where I could source everything before we left, put it all on a pallet and ship it to Greece where we could sail down to once we got the boat and pick it all up. Well, so I thought. The end result would prove very different. But we'll get to that in our Greek Crusades in a few editions.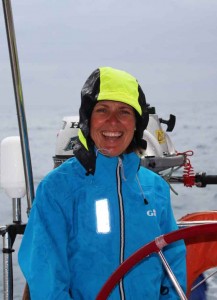 Since I set up Ocean Crusaders, I've had a few supporters that have stuck with me through and through. Even when our Brindabella fully crewed Around Australia record attempt did not go ahead when the owner pulled the boat out from underneath us with 5 days to go before departure, meaning the sponsors would not get the coverage they deserved, these few sponsors have stuck by us. I have remained loyal to them and when this opportunity came up to support them without them giving us anything extra, I quickly contacted them and told them that I would be taking them along for the ride.
Gill Marine Australia have provided us with our marine clothing all along. Their wet weather gear is awesome. It is based on a layering system. Their top of the range jackets are light and very comfortable. I've had mine since 2011 and it still looks new even though it has done a lot of miles. So we got Annika a new offshore jacket as staying warm is paramount when at sea for long periods. We already had the sailing trousers, gloves and plenty of shirts etc. Annika also has a beautiful blue coastal jacket which was part of the Swedish range and we had one imported just for her. She loves it and it too has done a lot of miles since she got it. We also both have smocks which is good for wearing under our main jackets so that if water does get in through arms or necks, then our main clothes do not get wet. They are also very good for the tropics and considering we were living in Darwin, if it rained, it was ideal as it was cool, yet kept us dry. Paul & Adam at Gill have been amazing to our cause. If you need sailing gear, make sure you check out the Gill range, I can personally vouch for it. www.gillmarine.com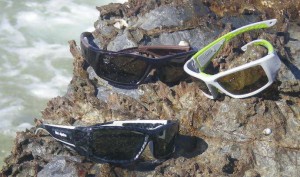 Barz Optics is our sunglass supplier. If you are into water sports, then these are a must. We predominantly wear the floating range as they are perfect for what we do. Since I have been wearing them, the amount of times I've dropped the glasses in the water and been able to retrieve them as they float is numerous. I've saved so much money. In fact I used to lose sunglasses all the time, adding plastic to the ocean I'm afraid. Now that I am wearing Barz, I can safely say that I actually replace the lenses more than buying new glasses. I scratch them a lot as I use my t-shirt instead of the bag they come in that doubles as a cleaning clothe. This is because I usually need to clean them quickly and don't keep them in the bag. So instead of throwing away the glasses when they are scratched, I simply order new lenses, saving on plastic and making the glasses new to look through.   The best thing about the range is their ability to provide prescription lenses and glasses with reader lenses in the bottom. Check them out at www.barzoptics.com
Since I used to sell Catalina Yachts back in 2003, I have been pushing Maxsea Navigation software. I used it around Australia when I broke the world record and have used it exclusively since. I still believe that it is the best cruising software available and we have also used it for racing with the routing module. It is so easy to use and that is a big thing for any piece of software to get the best performance out of it. When setting up this trip, I needed a lot of charts and once again Maxsea came to the party providing me all the charts for the trip. This saved us thousands of dollars of which we are so grateful. We use the latest TimeZero software. I will be posting a video on the website shortly on how easy this software is to use so stay tuned for that.
Every new boat we get, needs logos and since our first campaign, Chris at Boatnames Australia has been supporting us providing us our logos. You send him a request and he sends it to you anywhere in the world. They are really easy to apply and I can't speak highly enough of them. www.Boatnames.com.au
The other supporter of ours since the day we started our campaign has been Rob Kothe of Sail-world.com. When I first set out to break a world record, I asked Rob if he would help me promote the campaign on his website. He taught me how to write an article, what photos would be best and basically taught me how to use the media. Around Australia he ran daily articles and when I said we were going on this crusade, he said he would cover it for us by posting our blogs. www.Sail-World.com really has provided us a much bigger audience than we could have got by ourselves.
When it came to communications on the boat, it is always expensive when offshore using satellite connections. I had seen Predictwind advertising on Sail-world.com and seen the new Iridium Go. This is a device that provides a wifi on the boat and you use your smart phones or tablets to connect to it with up to 5 connections at one time. So to make a call you use your usual handset. For US$125 per month you get unlimited data and 150 minutes talk time. It is perfect for us. I can also download my weather for Maxsea through the predictwind program and they provide us with a free tracking webpage http://forecast.predictwind.com/tracking/display/Oceancrusaders and also have their own routing application so it is good to compare it with Maxsea. Jon from Predictwind organised the Iridium Go for us and also provided us free premium membership to their website. He is an avid supporter of clean oceans and didn't hesitate to give us the membership free. www.Predictwind.com
A new Asymmetrical Spinnaker was purchased from Gary Saxby at UK Halsey in Brisbane as our trip would be mostly downwind. It might sound strange to purchase gear in Australia and ship it but the convenience and knowing the reliability of your supplier is very important to me. I didn't want to get over to Croatia and find that the gear wasn't available or was built of low quality materials. Gary also provided us an amazing price so that capped off the deal.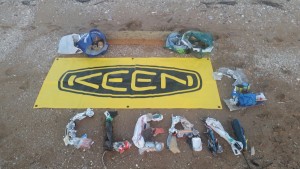 Whilst I was chasing the gear, we had Keen Footwear Australia contact us and wanted to support us in some way. They provide rugged shoes and they have a range of waterproof non marking shoes which would be perfect when we are walking on rocks and beaches collecting debris. We came up with a plan that they would be the sponsor of our Keen to Clean campaign, which will be our regular beach clean ups. www.Keenfootwear.com.au
Part of the campaign is to take new photos for our program and that meant Annika getting new photographic equipment. A lot of this gear would need to be suitable for diving so Annika contacted the people at Digital Diver in Cairns where she has always sourced her gear. They provided us gear at a great rate and the day it arrived, I can tell you I had a happy fiancée. New strobes, filters and lenses, along with a second camera gave her a complete kit ready to shoot the photos. I wanted to take video so ended up purchasing a couple of GoPro 4 Blacks which can shoot in 4K. I also set up a new computer with Sony Vegas Pro software. This new computer would also run our navigation software so it was important to get a good one. My old computer would become the back up.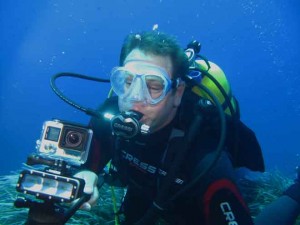 An essential for our trip was a watermaker, we were going to be remote for long periods of time.  There are so many options but most of them are fixed systems. I didn't want a fixed system as I wanted to move it from boat to boat and be able to take it ashore to provide drinking water in remote villages so they don't use bottled water. I came across Rainmain Desalination Units, an Australian company and they provided one of their portable units at cost price. Check them out as they are impressive. www.rainmandesal.com
Then it came to the diving equipment. Annika had no real preference, it was all about who would support us the best with price and support. So I sent an email to all the dealers in Australia for each manufacturer. The prices came back and a few were close to each other. Annika would look over it and whilst she had her favourites, she was still in two minds.   So I asked the dealers what else they could do for us. It was then that Bjorn from Cressi said he loved the campaign and would support it through their networks. This was really important for us as the more people that receive our message the better and the family brand that is Cressi would be able to support us perfectly. So Annika ordered her new Cressi Gear. www.Cressi.it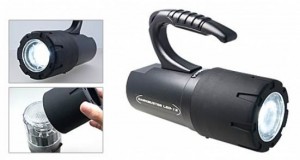 The only thing Cressi didn't have in their range were dive torches. So I asked Annika what she wanted and she immediately said she wanted the Darkbuster LED dive torches. I contacted Michael from the Australian Agent LED Dive Lights Australia. He was so supportive from the very minute I contacted them and next thing we have brand new torches arriving on our doorstep. The Darkbuster range was essential to us as they have rechargeable batteries. We do not like consuming and batteries are a waste so have rechargeable ones was perfect. The quality of the lights was even better. I can't wait to use them. http://led-diving-lights-aus.com.au/
We ordered a new Bauer Junior 2 compressor through Sharpie from the dive shop we used to deal with in Airlie Beach and then got dive tanks and weights from our old boss at Whitsunday Catamarans who had some spares available. I also ordered a new generator (240v Australian), new O2 kit for emergencies and a BBQ for the boat, what good is an Australian boat without a BBQ?
So the next mission was getting it all to Brisbane to ship it out. We had a lot of gear in Darwin, we had some gear in Airlie Beach and other gear spread all over Brisbane. I also had to get our van and trailer yacht to Melbourne to mum's place where it would be stored. So a 6,000km journey would cover it, Darwin to Airlie Beach, then down to Brisbane and then onto Melbourne. What a mission it would prove to be. I left on the 14th July and had to be in Melbourne on the 20th for my Buck's party in Melbourne. Afterall I was getting married in Sweden before we got to the boat.
In the next edition we go on a mission to Melbourne and then to our wedding in Sweden before taking delivery of the yacht in Croatia. Sorry this edition sounded like an advertorial but without the support of all these brands and people, we wouldn't be able to achieve this crusade. Please support these brands as they have a common goal for clean oceans.
Ocean Crusaders are out to change the way people treat our oceans.  Our online education program is free to download at www.OceanCrusaders.org/education where children can learn of the issues our oceans are facing and how they can make a difference.  The Plastic in the Pacific Crusade is about educating the South Pacific Islands, finding out what is happening in these islands and updating our programs.  You can join us in the Pacific and see for yourself what we do.
Ocean Crusaders Plastic in the Pacific Crusade is proudly supported by: Cressi Dive Gear, Gill Marine, Keen Footwear Australia, Barz Optics Sunglasses, Maxsea Navigation Software, Digital Diver Cairns, LED Dive Lights Australia, Boat Names Australia & Predictwind Weather