One of the things I never did in Fiji when I was here last was go diving. We were running windsurfing and kitesurfing tours so a few snorkels were about as close as we got to the action. There were two dive sites in particular we wanted to check out. The Salamander Wreck and the Supermarket. The Salamander is a 30m cruise ship that was deliberately sunk and lies in 27m of water. The Supermarket is one of the best shark dives in the world.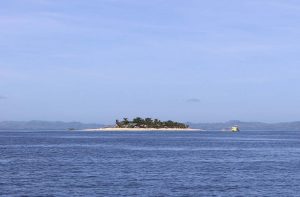 Before we headed off to go diving I thought we would go to Namotu Island, a little sand island with what I believe is the best windsurfing wave in the world. I have had my best windsurf there and Scott O'Connor who manages the resort is a friend. So we cruised up and dropped our anchor 100m from the shore. Back in the day the surf breaks were exclusive and only people on the island could surf Namotu. That has now changed, however boats cannot go within 100m of the island. We spoke to the resort on the radio and requested to come in and were given approval. Catching up with Scott was awesome and talking with the guests was a lot of fun. We were invited to eat lunch which we gladly accepted. We then checked out the island. It is a great little spot and if you ever get a chance to go there, definitely drop in, just radio them on VHF14 before you go ashore. To stay on the resort, well you have to be lucky. They had 2 spots available in the entire time through to November. After lunch we headed back to Plantation for the evening as we would go diving the next day.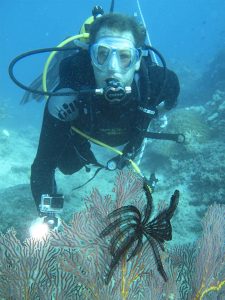 We headed off early the following morning to get up to the Salamander. It would take three hours as there was no wind. We arrived and there was no marker buoy where the wreck was. We anchored in a safe place and took the dinghy with our GPS to the location and couldn't see anything from the surface. We jumped in at the location and descended but found nothing. We decided that due to the poor visibility that we would just swim along the reef edge and enjoyed the soft corals and fans that were everywhere. It was disappointing to not find the wreck but the cyclone had obviously taken away the mooring buoy. The visibility and current made it almost impossible if you didn't know the site.
After our dive we cruised back over to Mana Island. We had good wind and it was a great sail. As we neared the point we could see lots of people walking gear off the island and onto boats, the same on the inside of the reef. The TV show Survivor was being filmed and the southern end of the island was where they filmed the activities and challenges. The villages were based on Mondirki Island where they filmed Castaway, meaning we couldn't go there, which was a shame as it is a cool little island to climb to the top of the hill like Tom Hanks did. We pulled up anchor out the front of the backpackers resort. The main resort was fully booked out by the Survivor crew so was off limits.
The following morning we went ashore and we got a guided tour by one of the staff out of the backpacker resort. He was ultra friendly in showing us the village and telling us about what was going on with the island. He told us about the Supermarket and that they were not feeding the sharks at the moment as the people who usually do it 3 days a week were from the resort, so with no guests, the sharks were having to fend for themselves. After our brief tour we headed off to go for a dive. We picked up a mooring and descended down to hopefully be surrounded with a great number and variety of sharks, hence the name of the dive 'The Supermarket.' The first thing we noticed was the state of the reef. Being shallow at 7m, it was really trashed. Broken buts of reef lay everywhere, bleaching was taking place and even a couple of plate corals had been toppled. The cyclone had done a good job of making a mess, not only above water, but below.
The second thing we noticed was a severe lack of sharks. We saw 5 sharks in the dive and I think two of those were double sightings. They didn't come close and with poor visibility it was a really big let down. I've been wanting to do this dive for years. Oh well, guess we'll just have to come back. We cruised back and anchored out the front of Plantation Island again and went ashore as we had been invited down to the island bar at Musket Cove by Big Joe Mayer. We cruised down and enjoyed a drink with Joe and the General Manager whilst watching the sunset. It's a great place to go as there are BBQ's to cook your own food and the new beach chairs are pretty comfortable too.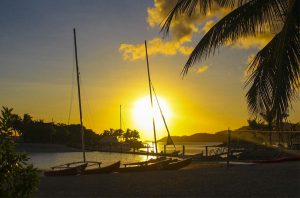 After drinks we cruised back to Plantation as Michael was back on the island. We walk into the main bar in time to see him auctioning off the crabs for the Crab Race. Michael is a natural at this. He is very amusing to listen to and some of the Australian guests were asking if he was always like this, I could only answer yes. After the auction I got a chance to catch up with him whilst he sorted out the money side of the auction. Then the race was on. Always fun to watch a crab race and see people cheering on crabs. Afterwards we had a good chat. It was good to catch up with friends. Michael used to grab our gear and go for a sail. Didn't matter how windy it was or what size gear, he would just hang on. I actually left him a set of gear one year for the crew to sail on. Unfortunately it all got burnt in a fire at the shed. Unfortunately we didn't have any to give to him this time.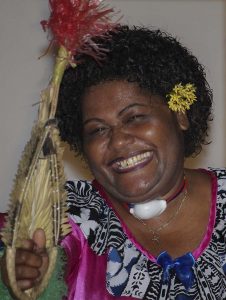 The following day we had invited our old friends to come for a sail. Unfortunately most of them work very long hours and weren't able to come, but Nancy joined us. We wanted to go out to Cloud 9, a floating restaurant at the outer reef. As we set off we realised it wasn't there. Trust our luck, the only day we wanted to visit it, they were doing maintenance and had taken it off site!!!! So we just cruised around the islands, trying to catch a fish and just talking. It was an enjoyable day and that night we went back ashore to watch the staff dance. It is a must do. The photos will tell you the kind of people these guys are. My favorite are the photos of Vilisi and Naome. I think they got shy when Annika was taking their photo whilst they danced.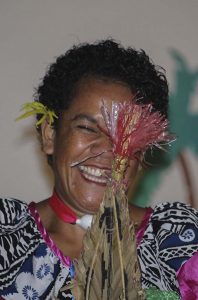 Sunday was time to head back to the mainland. I had been invited to catch up with Don McIntyre of McIntyre Adventures. He was back at Vuda Point so we headed there for lunch. I had never met Don, however we had been in touch about Ocean Crusaders. Don is putting together the 50th Anniversary of the Golden Globe Race so we talked about that and the possibilities for Ocean Crusaders to be involved somehow. We also talked about an Around Australia Yacht Race. He ran one in 1988, the only one to ever run. He has inspired me to run the second one which we will hold in 2017. After catching up we headed around to Lautoka. Unfortunately our time in Fiji was coming to an end and we needed to clear out and get home to Australia. We anchored overnight near the resort opposite the township and first thing in the morning checked out. We sailed out to Plantation and quickly dropped in to say our goodbyes, well see you later's, as we will be back.
I love Fiji. The people are amazing. I have so many good friends there. For now it was great to have caught up with them all and we promised to them we would be back as soon as possible and take them all for a sail. If ever you are in Fiji, go to Plantation Island and say hello to Michael, Nancy, Naome and of course my favorite activities girl, Vilisi. Tell them I sent you and they will look after you, well they'll do that anyway, it is in their nature.
In our next edition we sail the home stretch back to Brisbane.
Ocean Crusaders are out to change the way people treat our oceans.  Our online education program is free to download at www.OceanCrusaders.org/education where children can learn of the issues our oceans are facing and how they can make a difference.  The Plastic in the Pacific Crusade is about educating the South Pacific Islands, finding out what is happening in these islands and updating our programs.  
Ocean Crusaders Plastic in the Pacific Crusade is proudly supported by: Cressi Dive Gear, Gill Marine, Keen Footwear Australia, Barz Optics Sunglasses, Maxsea Navigation Software, Digital Diver Cairns, LED Dive Lights Australia, Boat Names Australia, Predictwind Weather & Sail-world.com
If you missed the earlier editions please go to category file in the footer to go back and read them.  They are listed under Plastic in the Pacific.
[cincopa AsNA_l9x9JDr]
SIGN UP FOR OUR BLOGS