Welcome to our blog for the Plastic in the Pacific Crusade.  If you missed the earlier editions please use the category search in the footer to go back and read them.  They are listed under Plastic in the Pacific.  Over the coming year we will be writing regularly of our adventures and what we are seeing.  In this article we write about our sail down to Greece, picking up our gear sent from Australia and visiting the ancient ruins of Delphi.
We departed early on the 11th August as at 0500 a rolling wake had woken me. So I got up, plucked the anchor and started heading south. The breeze was perfect, blowing a north-westerly so we could beam reach down the coast of Croatia. Our plan was to head over towards Italy a bit to avoid getting close to Albania. We didn't want any issues. We would then cut back across to end up at Corfu Island where we would check into Greece.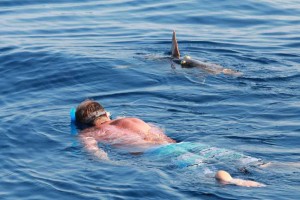 The first day sailing would prove a mission. The early sailing was quite pleasant and we even saw a turtle, something I didn't expect to see. However this turtle was not healthy. It was obvious even from a distance that it had a problem. I jumped in with it and it couldn't dive. This is a common problem if they have consumed plastic. There wasn't much we could do for him out here so he went on swimming towards the coast. Now I have seen plenty of storms at sea but the one we would face this day did things I've never seen happen before. We were heading towards Lastovo Island and I could see an intense rain storm heading across in front of us. It was moving in an easterly direction so I aimed at it thinking it would pass in front of us. It looked like it would and we'd have a safe passage behind it when all of a sudden it changed directions. It basically reversed its course and headed back across in front of us. So we tacked to go back along it and sail behind it again. We passed the island and wouldn't you believe it, the storm changes direction again and chases us. 7 hours later we would finally clear the storm. We had up to 40 knots at times, torrential rain with less than 100m visibility and it was full on. We had a very small amount of mainsail out and would try to sail through the storm to the west but never seemed to get anywhere to clear it. All the time lightning strikes are threatening to hit the mast, a perfect conductor of electricity. It's a scary thing out at sea as it will take out all your electronics. We had a bit of luck that we didn't get struck but it had taken a lot of energy out of us and considering we had a few days of sailing to get to Corfu, it wasn't ideal.
In the storm our headsail was fluttering badly as the leech line had broken. So in the afternoon when everything settled down and there was no wind and full sunshine, we pulled it down and fixed it. The night would provide us a gentle 4-9 knot easterly breeze so we motor sailed a fair amount to keep moving south. We really wanted to get to Greece to get our gear cleared and finish fitting out the boat. The next day the breeze filled in for 4 hours in the morning and then glassed out before coming in for the afternoon and evening as we approached the border between Albania and Greece. The height of the hills off the Albanian coast is insane and they produced their own weather system. We had a bit of rain but nothing major and we could see Corfu by night fall. We had decided to check in on the mainland instead of Corfu as we knew Corfu was an expensive place to be. So we sailed between Corfu and the coast and down to Limani Igoumenitsa only to find out they didn't have facilities for yachts and we had to go two and a half hours back to Corfu.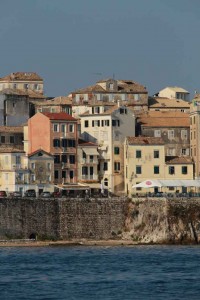 Approaching Corfu and it was stunning. Plenty of luxury boats anchored off but the old fort on the point was beautiful. The wind had died so we steamed into Gouvia Marina and tied up at the customs dock. All our information said we could complete all formalities there but on arrival we were told that we had to go to the ferry port about 20 minutes away so we had to get a taxi. We got our Mercedes taxi with a blonde haired lady, not what I expected for Greece. She dropped us over and we cleared through customs and got our cruising log which we were to have filled in everywhere we went. Once cleared into Greece we wanted to keep moving in order to get to our gear as soon as possible. We had no intention of seeing much of the Mediterranean on this trip, that would be another time. Our mission was to get our gear, and get to the Caribbean as soon as possible, spend a short time there and then get to the Pacific for the ultimate reason for the journey. We only bought the boat in the Med because it was a good price and couldn't find anything suitable in our price range in the Caribbean.
We departed Corfu Island and headed to the Nikolaos Islands and anchored off Nikolaos itself. It was very crowded and finding a spot was difficult however we managed to squeeze inside of everyone in 3m of water. It was really nice to stop, knowing we were in Greece. The following morning we headed off at 0700 towards Corinthian Channel to get close to Athens. The plan was to get a van from Korinthos and pick up our gear, spend a few days fitting out the boat and get back out and off to Italy.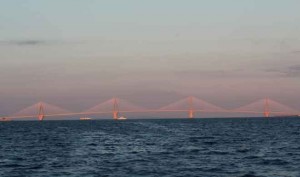 The trip down to Korinthos was to be just over 24 hours with wind for about 12 hours of that. It was a great sail entering into the channel and the islands were stunning. The waters were clear and the coastline so rugged it was a shame we didn't have time to spend here. We steamed up through the channel overnight and went underneath the Rio-Antirrio Bridge, the second largest multi span bridge in the world at 2.88kms long. It was lit up like a Christmas tree. We arrived down at Corinth Harbour at midday. We found a café to check the internet to find a van to rent but as it was peak holiday season, the prices were out of control and no vans available in Korinthos. It was a horrible feeling to think that all the planning I had done had not foreseen this issue. The problem with yachts is you never know when you are going to arrive so pre-planning things is not easy. We eventually found a van at the Athens airport and for one day it would be AUD$430. I couldn't believe it but we had no choice, we needed to get our gear and every other option was more expensive.
To top off my day, I got the invoice for the clearance of the goods. Back in Part 3 you may recall I mentioned that I was expecting the clearance fees to be around AUD$250-400. Well when you get an invoice for €1,329 (AUD$2100), well I got a total shock. I couldn't believe it. This was nearly twice what we paid in Australia and was very damaging to our budget we had set up for the entire trip. For some reason they had decided to charge us VAT on the compressor and generator we had shipped but nothing else. So the feeling that came over both of us was horrible. The place we had come to was closed because of St Mary's holiday and with so many deserted shops, the streets were full of rubbish and the wharf was cracking with no facilities, our spirits were very low. We decided to leave the dock in the afternoon and cruise over to the tourist side of Korinthos and anchor off. We had a swim and a few drinks however both of us were down very low. I felt I had failed once again in organising things, something I'm usually good at.
The next day we spent exploring the tourist side and we had lifted our spirits up a little. It would be the following day before we could get the van and get our gear. We decided to head back over to Korinthos itself in the evening and lucky we did as it got very windy that night. Boats were jerking around as a swell came around the rock wall. It was not a very comfortable night.
The next day we were up early and walked up to the train station and caught a train to Athens Airport. Along the route you could see rubbish piled up all over the place. We got the feeling that no one took any pride in their country, it was quite sad. We got to the airport and got our van, the smallest van I've ever seen. I was so worried that our gear wouldn't fit in it. Couldn't believe we were paying so much for so little car. Worst still, the car had no fuel in it, and I mean none. We were told to go to the first fuel station. We got there and filled the car and made our way to a chandlery to purchase some extra things. Then we made our way to the warehouse that had our gear, talking with the clearing agent the whole time to make sure it was cleared. On the way we passed the site of the 2001 Athens Olympics. I know that in Australia the stadiums built have been an asset but here, well the whole village was fenced off, rubbish everywhere and graffiti littering the walls. It was a disgrace. It was very obvious that the Olympics were not good for Greece. When we got to the warehouse we were told our clearance hadn't come through yet. It was an hour before we finally had our hands on our gear.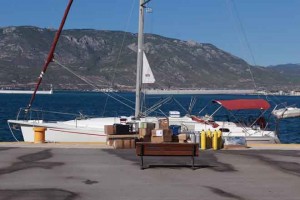 Stacking the little van ourselves, we managed to squeeze everything in but that meant Annika was well packed on the passenger side as well. I think we were a little overloaded as the car was very low at the back and handled horribly heading back to the boat, an hour's drive away, but we made it. We packed all the gear onto the boat and amazingly it disappeared quite easily. We were extremely tired so had an early night. We were happy that we had our things back and could now set about final preparations for our trip to the other side of the world. It's amazing when you get some of your own things, simple things like pots and pans, extra clothes etc. More importantly was we had our full navigation set up now so I could set up the computer with the inverter and run our full Maxsea program, something that I missed on the trip down from Croatia when all we had was the onboard GPS.
The following morning we did a quick morning shop and filled the jerry cans before taking the van back. We then caught the train back to Korinthos and departed for Galaxidi, a small town we had been told about near Itea, about 35nm away. Of course the wind was still blowing dead on the nose but we wanted to get away from Korinthos, we needed a 'brighter' place to set up the boat. We made it to Galaxidi after dark and decided to anchor off. We could hear music from the waterfront however the place looked great even in the dark.
In the morning we went and docked along the waterfront next to a couple of boats we had met in Korinthos. The dockmaster was running the local chandlery and when asked about the fees, it was something like €7 per night and power and water would be €10. We told him we'd pay him cash and didn't need a receipt (on advice from our friends) and all of a sudden power and water was €5. As we started cleaning the boat our neighbors told us we had to see the old ruins of Delphi. They were about to get a taxi so we asked if we could share it with them and we quickly stopped washing the boat, changed and got in a cab with them. Driving up through the Olive trees towards the hills where Delphi was, we found out about our Dutch friends and their adventures. Like most, they were spending summers in the Med and not really moving very far. Our trip was a shock to them, the simple fact that we were just flying through the Med as fast as we could.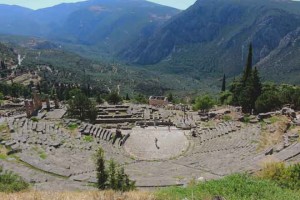 Delphi is pretty much where Europe started. We are talking back in 1400BC and up in the hills there is an Oracle and whole village where the God of Apollo was worshipped. It was a stunning place and the thought of how these places were built with massive rocks, carved out of the earth and transported up steep hills is just mind blowing. The stadium held athletic events and was a marvel in itself. The museum had lots of the artefacts preserved and some of them were just outstanding.  It is amazing. It was the first real tourist thing we had done and it was well worth it.
The next couple of days we stayed in Galaxidi and fixed up a few items on the boat, fitted a lot of the gear we had received from Australia and pretty much got ready to depart on our next leg to Italy. The gear stowed away nicely although it would have been nice to fit either the generator or compressor into an aft cabin space but instead they went in the deck lockers so a lot of space was taken up in them. The BBQ I had bought secondhand, I found didn't have the mounts that I thought it did so it wouldn't be mounted till we could get some made up.
On the 20th August we set off to Itea which is a clearance port from Greece. It is just 30 minutes from Galaxidi. We cleared out by noon and departed the dock by 1215. As we were sailing out to the southern point where we could turn west, the breeze jumped up to 25-30 knots so we decided it was better to head back to Galaxidi for a night and leave early the next morning. We anchored off rather than go ashore and continued fitting out the boat. We had decided that we would do this little by little rather than all at once, that way it wouldn't seem so bad.
On Friday the 21st August, we departed Greece, sailing out the Corinthian Channel, through the islands and straight into 30 knots on the nose. What a way to start our 680nm journey to Palermo Italy.
In the next issue we sail to Palermo Italy, explore Palermo for a day and then go for a dive at Ustica, a little island off the northern side of Sicily.
Ocean Crusaders are out to change the way people treat our oceans.  Our online education program is free to download at www.OceanCrusaders.org/education where children can learn of the issues our oceans are facing and how they can make a difference.  The Plastic in the Pacific Crusade is about educating the South Pacific Islands, finding out what is happening in these islands and updating our programs.  You can join us in the Pacific and see for yourself what we do.
Ocean Crusaders Plastic in the Pacific Crusade is proudly supported by: Cressi Dive Gear, Gill Marine, Keen Footwear Australia, Barz Optics Sunglasses, Maxsea Navigation Software, Digital Diver Cairns, LED Dive Lights Australia, Boat Names Australia & Predictwind Weather
[cincopa AMJA_BtFvJhI]