Welcome to our blog for the Plastic in the Pacific Crusade.  If you missed Part 1, click here to go back and read it.  Over the coming year we will be writing regularly of our adventures and what we are seeing.  In this article we write about how we purchased our new yacht.
Having decided on a trip through the Pacific, it was time to buy a yacht. We needed a yacht with enough room for guests who could join us so 3-4 cabins and minimum 2 heads was mandatory. Large lockers were also essential as we would have a compressor and generator to fit along with water maker and loads of diving gear. We were going to spend a year on a boat after all, you don't want it too small.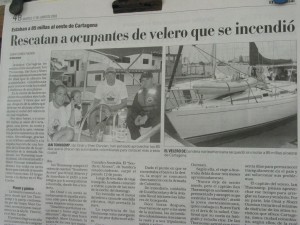 It wasn't the first time I had been looking for a boat overseas. In the early 2000's I had actually bought a 39ft Beneteau from the Caribbean and attempted to sail it back, but sold it in Cartegena, Columbia after a little fire incident courtesy of some dodgy electrical work completed in Aruba. That's another story altogether though. Our budget was not going to be too extravagant, however the thing that was to our advantage was that the Australian dollar was very strong compared to the US dollar and the Euro.
We had two thoughts on locations and sailing plans. We could buy a yacht in Tahiti which would be the perfect spot to start, or the lure of the Galapagos Islands would mean a purchase in the Caribbean and sailing through the Panama Canal before starting our campaign. As time went by, we weren't getting much interest in our house, our options were drying up. It meant we couldn't afford as much. The first yachts we were looking at included a beautiful Beneteau 40 out of Papeete in Tahiti. We made an offer but missed out when our offer was beaten by someone else. I was a bit surprised that I wasn't given the opportunity to better or match the offer. I only missed out by €2000 having made a silly offer to see if we could get it cheap. Anyway, that one went and we had to look at other options. The options out of Tahiti are very slim. The Beneteau was an ex-Sunsail vessel and they only have a release once a year. The rest are cruising yachts that have made it across the Pacific but not wanting to go any further. Prices meant that it just wasn't worth it as you would get an older yacht and one of our keys was to get a yacht that we could sell at a higher price in Australia to recoup a bit of the costs.
We found a Beneteau 42S7 out of Sydney which was very good value. We thought that we could sail it to New Zealand and then across to Tahiti via the Southern Ocean. The best part was we could fit all the gear in Australia and no shipping of goods would be required, and it was Australian, meaning the gas and electricity on-board was suitable for Australia. One drawback was that we would not make money on the boat, but we were saving by not having to ship goods. We put in an offer and it got accepted. We signed the contract and sent it off to the broker however by the time the broker got it, the owner had decided not to sell it. Another setback which was really annoying. We had got so excited about this boat.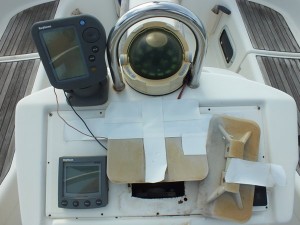 All the while the US Dollar and Euro was worsening. We started to look at the Caribbean in detail. Lots of boats but the dollar was getting to a point that we couldn't afford what we wanted. We looked at every site possible. Yachtworld.com, boats.com, every Caribbean individual brokerage site, and finally we found a 46ft Beneteau on ApolloDuck.com. It was being sold by the owner direct and the price was attractive. It was based in Grenada which was perfect, we could fly in after the wedding and pick up the boat, ship all our goods to Panama and pick them up on the way through the canal. We made an offer and it got accepted. The planning started and we were very excited about it. We organised a surveyor to inspect the boat as flying in and out was too much. The cost of the surveyor was around AUD$470 however the result of his survey was unbelievable. We had been told a fair bit about the boat and the issues it had but the photos given to us by the owner were not showing half of it. Even at a cheap price, this boat would need far too much work and was a risk to sail across the oceans. It had a major repair on the Port Side where it had obviously been on the rocks, fittings were missing or damaged badly and even some of the teak deck was missing, the rest was in a state of disrepair. This is one of the issues of looking at boats sight unseen, you have to understand that what photos you see is not necessarily what you are getting, hence the surveyor is like an insurance policy, it is also required for insurance.
We were gutted but set about finding another boat. I would sit at work or home all day and on my night shifts spend heaps of time searching for boats. I would look everywhere, look at the same boats time and time again but still come up with nothing. I expanded our search into Asia and America and started looking at boats that just weren't suitable. I presented that many options to Annika I am sure she thought I was crazy. We actually started to wonder if we were meant to do this as the boats just weren't coming. Eventually I started opening up the horizon as to where we could get a boat. It would seem stupid to get a boat out of the Mediterranean for a pacific crusade I originally thought. The Med is a long way from the Pacific, but sailing was what we do and if the money was right, maybe it was a possibility.
We made an offer on a Beneteau 411 in the Caribbean however the owner and broker were so slow getting back to us that we almost forgot about it. In the meantime I started looking in the Med and the boats were a lot cheaper. Ex-charter boats were everywhere and the economy in Europe meant a lot of boats were available cheap. We found a 53ft Gieffe Yacht, it was beautiful and owned by a bank in Italy after it as repossessed. We made an offer and once again got beaten by a few thousand Euro. We even saw a Kallista 53 out of Mallorca that had a small interior fire and it was going cheap. Again, made an offer and it was actually higher than one they had already received that was put to the insurance company. The result, as the original offer was local, they matched my offer and they got it.
You could imagine the frustration that was setting in by now. Constantly making offers and missing out, or not being accepted for one reason or another. The house wasn't selling. The T7 wasn't getting any bites. The doubts of making this happen really flooded in. Were we doing the right thing or were we dreaming?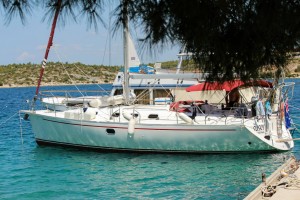 Eventually I found a Dufour GS43 in Croatia that had a great layout. It was a cheap boat so even though we knew it would require some work, it was feasible for us even if we didn't sell the house. If we rented the house we could afford this one. Annika and I thought long and hard about it and eventually made a stupid offer. A few days later our offer was accepted. I looked it up once again on the internet and saw it advertised for the same price as our offer. So I put in a lower offer and finally we settled on a price that suited us both. This time I held back my excitement, I was going to wait until the survey was completed.
Again I employed a surveyor and whilst I knew some of the issues already, he would hopefully find anything major that would stop the sale. It was lifted out and the report came through with lots of photos. Nothing came up that we didn't already know about which was excellent so on the 25th June 2015, we took ownership of Susky, a Dufour GS43 located in Grabastica Croatia. We settled early to stop the Euro exchange going any further and lucky we did as it kept going which meant we saved thousands. We wouldn't actually get to the boat for another month but the money we saved would pay for berthing.
The next key to our campaign was finding sponsors and to get all the gear we needed for our trip. The list would prove long and quite expensive. But to make our crusade a success, we needed a lot of gear.
In the next episode we take you through how we found sponsors and who they are.
Ocean Crusaders are out to change the way people treat our oceans.  Our online education program is free to download at www.OceanCrusaders.org/education where children can learn of the issues our oceans are facing and how they can make a difference.  The Plastic in the Pacific Crusade is about educating the South Pacific Islands, finding out what is happening in these islands and updating our programs.  You can join us in the Pacific and see for yourself what we do.
Ocean Crusaders Plastic in the Pacific Crusade is proudly supported by: Cressi Dive Gear, Gill Marine, Keen Footwear Australia, Barz Optics Sunglasses, Maxsea Navigation Software, Digital Diver Cairns, LED Dive Lights Australia, Boat Names Australia & Predictwind Weather Forecasting