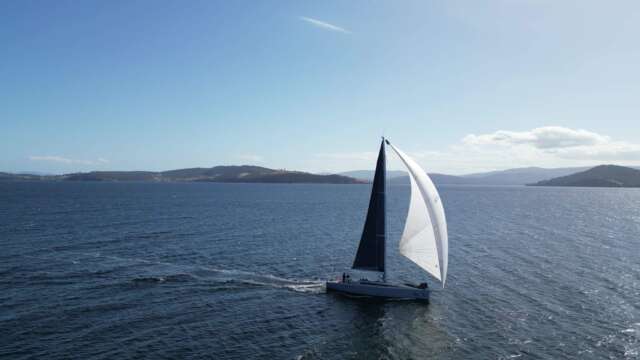 Ocean Crusaders was founded in the sailing industry when I sailed solo around Australia in 2010 to break the world record. In 2022 we have returned to the sailing scene with our new vessel J-Bird III having spent three years restoring the vessel and converting it to an electric drive.
After a huge year of cleaning up after the 2022 Brisbane floods in which we removed over 275 tonne of debris from SE Qld waterways, we took on the challenge to compete in the Rolex Sydney to Hobart Yacht Race, the pinnacle of yacht racing in the southern hemisphere. Our first race was to get to the start line which we managed to do with some huge help from friends and family. In the lead up to the race we undertook our delivery sail from Brisbane to Sydney which was a fantastic shakedown cruise and we learnt just how great this boat can be. Once in Sydney we had the rigging finalised by Diverse Rigging and our new mainsail and headsail delivered from Doyle Sails Australia.
In the final days leading into the race, our nerves were growing. We'd just spent three years of our life rebuilding her and the forecast was for some very strong winds down the coast of Tasmania. We couldn't afford to break her, we just needed to finish. Race day morning and for some reason the nerves subsided. Steaming out to the start line in silence was fantastic. Our new Bellmarine electric drive from Eco Boats Australia was working a treat. We launched our mainsail and then our storm sail as we had to show that to the start boat before we raced. We then set about preparing ourselves and ran up and down the harbour a few times before we settled in our starting area, running back and forth across the line, but away from all the hot shot boats on line 1. We were 2 handed, we couldn't afford to get mixed up in the chaos of the ultra-competitive boats at the start. We chose to start behind the fleet to give them clear air and had a mission to simply make it out of the harbour safely.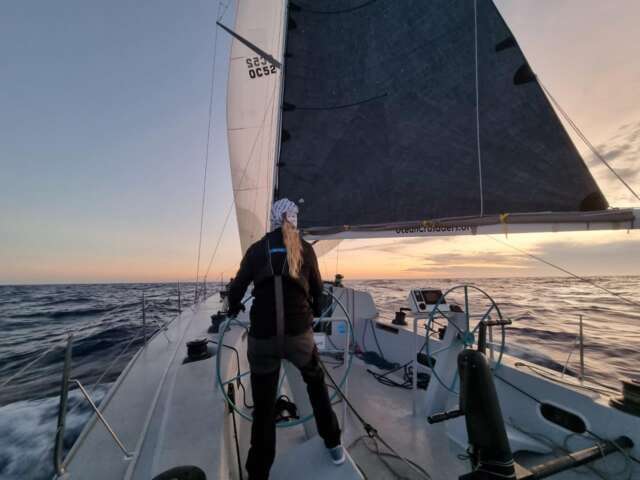 Our start was exactly what we wanted but the dirty air from the fleet of boats ahead was horrendous. We were slow but we made it to the first mark safely and headed out to the seaward mark where we would turn to Hobart. The winds were gusting to around 18knots and the boat was powered up beautifully and off we went. We got to the outer mark and launched our Code Zero sail as it was easy to set being on a furling drum. We then went to furl away our headsail only to find that our furler had failed. We had been notified 3 days prior to the race that there was a recall on this part but with no time to get the new part from overseas, we hoped that we would get through the race. Unfortunately, we didn't, and this was a major setback. We wanted to use our headsail to power the boat when the winds got too strong for a spinnaker, and we also needed it for upwind work. The advantage of a furler is you can change the size of the sail quickly and easily, meaning you can change gears as needed. With the furler broken, it left us with the problem that we had this sail as full size only (#1) and no way to decrease its size. We had to drop it to the deck and with vertical battens in the sail, this is not something easily done whilst sailing. We got it to deck and then removed the battens and then set about putting the sail downstairs, something we never thought we'd need to do throughout this race. It was heartbreaking, we knew we had lost any chance to be competitive for a handicap win in the two-handed division. To happen so early was totally devastating, but we were going to finish, that was the mission of the race.
After an hour sorting out the headsail we changed from our Code Zero to an Asymmetrical Spinnaker (A4) for the downwind work. Whilst we had let several smaller boats past whilst we sorted out our issues, we finally were back up to speed and started to peg them back again. The next 18 hours was simply champagne sailing. Using our Timezero and Predictwind routing software to know where to go to get to Hobart quickest, we made our way down the coast. Come morning and we knew the wind was due to pick up to mid to high 20 knots by around lunchtime. We didn't want to run our spinnaker over 20 knots as it is 245 square meters of sail and with just two people, if we had an issue, this would be a major problem. At 1045 we decided to change down to our Number 4 headsail which we were carrying as a spare. It wasn't in good condition, but we hoped it would get us through the race. We also put a reef in the main as the winds were now pushing 22 knots and we knew more was to come. It wasn't much longer and that started. Soon we were seeing 30 knots and the boat was scorching along, surfing into the high teens.
Later that night, just on dusk I was on the helm and surfing down a wave and we felt a soft thud on the keel and we were pinned sideways to the wind and waves. We had no steering and we feared we had lost our rudder but that felt fine. We had wrapped something around the keel. We couldn't get it off so dropped our sails, however the flogging of the headsail had destroyed it beyond use. After 20 minutes we were free of our UFO (Unidentified Floating Object) and had the main and storm jib deployed, leaving us very slow. The #4 headsail had already left us slower than we wanted to be, but now we were way off the pace we needed to get to Tasman Island before the southerly change. We couldn't launch our #1 as it would leave us overpowered, we had no option but to plug away.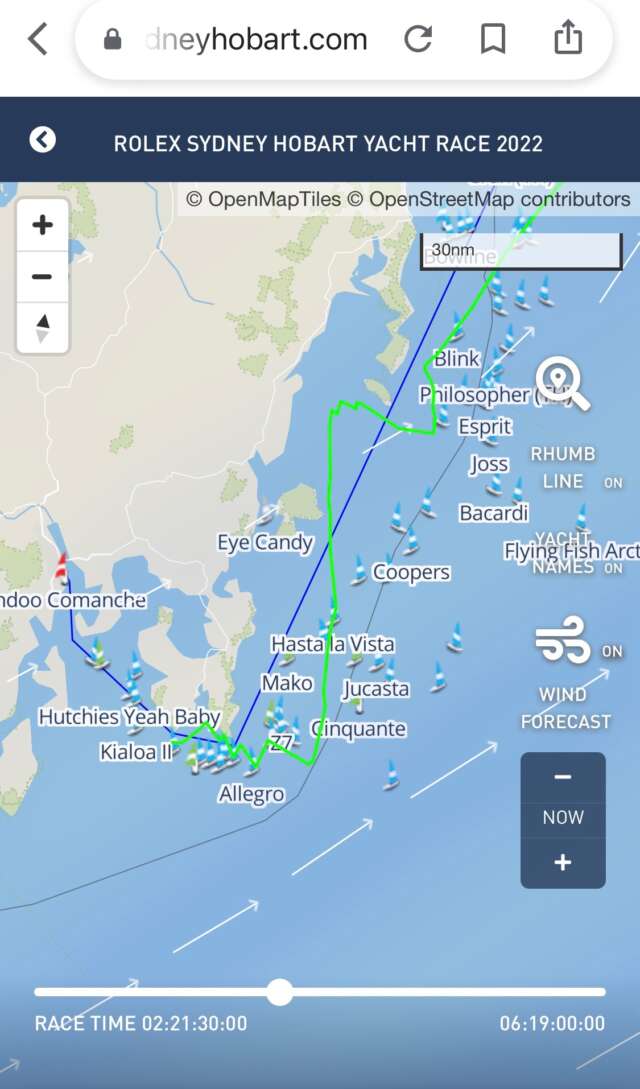 Overnight the winds built into the 30 knots and the waves continued to grow. We threw in a 2nd reef. At one stage we hit 26.8 knots but our average speed was down with the lack of power from the headsail. Already the other TP52 boats were over 50 nm clear and extending. By now we knew we were not going to make it to Tasman Island before the change which was incredibly frustrating. Had we been able to make it to Tasman Island, we wouldn't end up with clashing swells from the old northerly and the new southerly. Without a proper headsail, sailing upwind in choppy water would be horrible.
Sure enough the next morning the wind started to shift when we were half way down the coast of Tassie. Initially it was NW but continued to swing until it was a Southerly. As predicted the swells from the south started to smash into the northerly swell and the sea state became horrible. We would simply launch off the top and without a decent headsail, land flat on the bottom of the boat which would shudder everything. We couldn't continue to do this as it would break the boat. We had no option but to sail conservatively, however even doing this, we were still bouncing the boat. We headed off to hide behind Schouten Island which would shelter us from the northerly swell. We were broken. The tiredness and frustration that we felt lead to us both having moments in tears. As night-time fell, and we felt we should've been in Hobart, we felt hopeless, not knowing what to do. On dusk we decided to finally head with mainsail alone south. We couldn't deploy a headsail without launching the boat and we were sailing well off the breeze but we were going to make it to Hobart no matter what.
Throughout the night we plodded along, slowly at 5 knots, occasionally 6-7 with the winds hitting mid-thirties again. As the new day began to dawn, I was on my phone checking the feedback from the night before's post when we had advised people of our issues. One comment stated that we were still leading line honours on 2 handed which absolutely stunned me. Surely they had gone through by now, so I checked the standings and realised we still had 4nm's over Mistral. We were close to Tasman Island by this stage, it had taken nearly a day to sail 50nm. I launched the storm jib and started to hand steer again avoiding the worst of the waves. We still couldn't sail as high was we wanted to due to the storm jib not being suitable for hard upwind sailing close hauled. We eventually rounded Tasman Island and the winds around the corner were lighter so we opted to launch our #1 headsail and even shook out all the reefs. Mistral was still only 4nm behind. We sailed quickly across to Cape Raoul and around the corner we sailed into a hole. Mistral sailed in shortly after and sat about 500m from us, both of us going nowhere.
For 4 hours we sat wallowing around swearing at 'Huey' to give us some wind so we could get to Hobart. We were so close, yet so far. Eventually Minnie, another 2 hander, came around the corner flying a kite with the new breeze. We picked up the same breeze and it became a 3 way tussle for line honours in the two handed fleet. At the Iron Pot (Entrance to Derwent River), we were marginally ahead of Minnie and Mistral was a little bit further back. Lucky we had a 52 footer and in the Derwent River we were able to extend. All of a sudden a drone appeared. We knew this was going to happen as Mark Harvey, one of our greatest volunteers had organised to take shots on our way in. He'd been there all day waiting for us as we sat at Cape Raoul.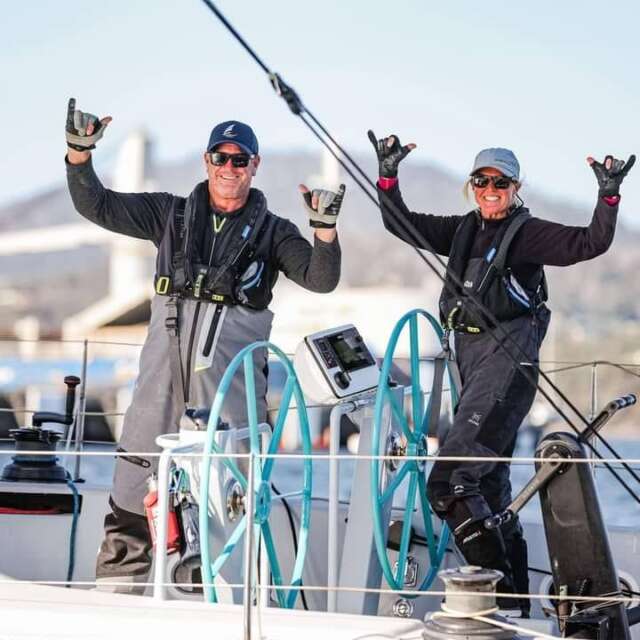 Sailing up the Derwent was quite majestic and we had our big A4 kite flying. Coming up to the last rounding mark, things were getting tight for a kite but we managed to hang on and then bore away to the finish line. We finished at 1745 local time in a time of 3d,4h,45m,23s. This is the fastest I've actually finished a Hobart but it should've been a lot quicker but Coulda, Shoulda, Woulda's don't cut it in yacht racing. We were just happy to make it and now time to relax. We had however won Two Handed Line Honours which was a goal we had.
The boat itself had stood up quite well. We had no electrical issues and we had full 12volt batteries thanks to the solar charging, and the 48v drive system, even after motoring around after the finish still had 70% charge. The crew had not survived as well. We were absolutely destroyed. There is a tradition that when you arrive in Hobart, you have to go to Customs House (a bar) to 'Check In' We didn't even make it that night. In the morning we both were suffering from swollen hands and feet. It had taken its toll on us. It would be a slow day. In fact there would be several and it has taken me this long to write this article.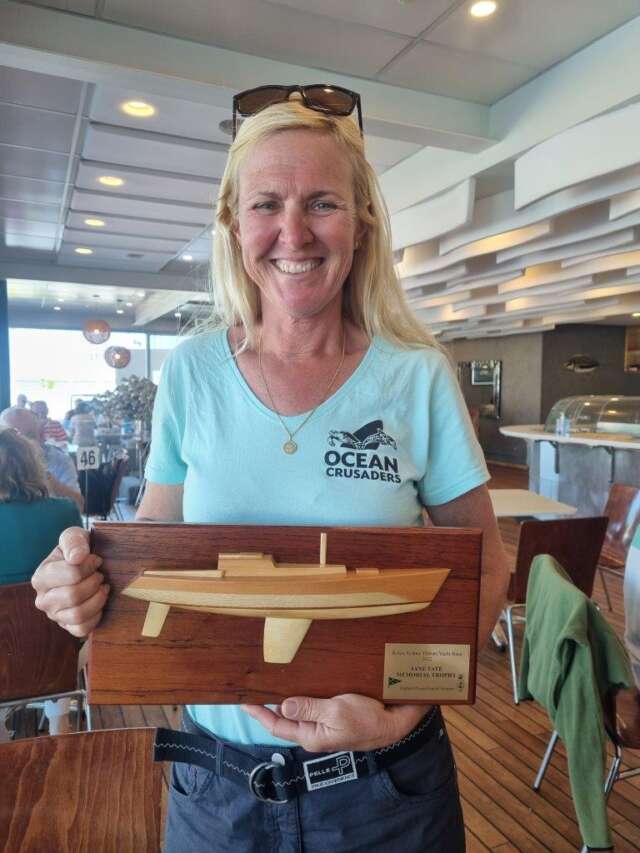 At presentation we were awarded the Two-Handed Line Honours trophy together. As we walked off stage, we heard them announce the Jane Tate Memorial Trophy Winner. Jane Tate was the first female to complete the Sydney to Hobart back in the very first race. It is a prestigious award given to the first female skipper home. Annika had won it.
All in all, our mission was to show the world that you can compete in the Rolex Sydney to Hobart with an electrical drive and not use an ounce of fuel. We achieved this and whilst the media didn't pick the story up as much as we might have hoped, certainly the popularity of the campaign amongst the sailors was beyond what we could imagine. We have spent days since showing people the system and most have fantastic things to say about it. Even here on the 2nd of January, we still have not plugged into the shore power. Whilst other boats are charging batteries with engines or from coal powered shore power, we are here still quiet and still plenty of power. Boats are loading fuel on to deliver the boat home, we aren't. So we have ticked a lot of boxes.
What's next, well we are taking January to sail back to Brisbane and then we will prepare for the 75th Brisbane to Gladstone at Easter where we will revert to fully crewed. And of course, we'll be back cleaning in February/March, making our oceans a better place for the many dolphins that we saw along our journey.