After the tragic 1998 Sydney to Hobart, I remember a guy turning up at boat shows and talking about how good the Dolphin torch was. His life was saved when someone turned on a Dolphin torch and threw it into the water and he was able to get it and hence be seen for a rescue. So for many years sailors have been carrying dolphin torches onboard as an essential safety item.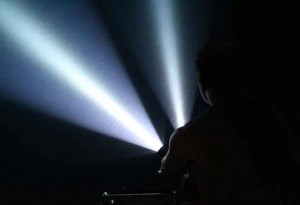 When we were setting up for our Plastic in the Pacific Crusade we knew we needed a dolphin torch, however, as divers, we wanted dive torches as well. We would be diving all over the Pacific and a good dive torch is necessary, even on some day dives as there would be caves to dive into. We had chosen the Darkbuster range of lights from LED Dive Lights Australia. It was simply as they had the best reputation, were very powerful with 1000 lumen and the most important, they were rechargeable, eliminating the requirement for lots of batteries. On a usual dive torch you would go through a set of batteries every dive as you can't afford to run out of power.
So we had both a dolphin torch and the Darkbuster 12XL dive torch onboard. It was a great chance to compare them, but we didn't realise this until our journey was underway.
The standard xenon dolphin torch is just 67 lumen which gives you a beam range of 146m. Its battery has a lifespan of 8 hours and the globe has a lifespan of 15 hours. It is bulky and often, unless you get the wall bracket, they are put in cupboards, out of sight. When you do get it out, most of the time you have to bang it to get it to work and then hope your battery/globe is still alright. Of course you have to carry plenty of the bulky 6V batteries and globes with you which disposing of is an version with 210 lumens and a beam range of 212m and rechargeable only up to 300 times. All dolphin torches are waterproof up to 1m, but I wouldn't try it, I know from previous experience.
On the other hand we have the Darkbuster 12XL dive torch which is a solid torch and is waterproof to 100m. Although it is a dive torch it is still usable out of the water and this is a real bonus. The beam range is not mentioned however it would easily match the LED Dolphin torch. We've been lighting up things a long way off. It is less bulky than the dolphin torch and has three settings for the light, full power, half power and strobe setting, perfect for an emergency. Each charge will give it 145 mins run time at full power and the globe has a lifetime of 50,000 hours. You can get it with a pistol or lantern grip and you can charge it on 12V, 110V or 240V. And finally, to make it even more appealing, it floats, just like the dolphin torch.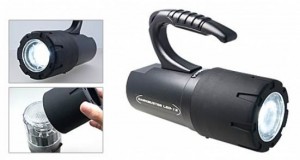 O.K there is a huge difference in price, the Darkbuster 12XL goes for AUD$325 and the new rechargeable Dolphin goes for $110 however it's lifespan alone will make it worthwhile getting the dive torch. Of course if you are a diver, then there is no comparison, you have a dive torch and boat torch. We never realised how much we would end up using our dive torch on deck. Finding a mooring or a safe passage between boats, finding your berth or using it to light up a work space, it is all achievable by the Darkbuster. To make it more effective at night to light up a work space, take the diffuser off and the beam broadens. We even use it to light up the cockpit for dinner. On low setting, we point it to the bimini and the reflection is very bright, almost too bright. What's more is we don't leave it in a cupboard, it actually lives in a drink holder on deck, it fits perfectly.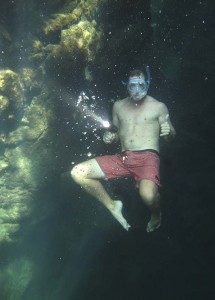 I have to let you know that we are sponsored by LED Dive Lights Australia. They agreed to sponsor our cause as they are passionate about looking after the oceans. However even we are pleasantly surprised by this torch. I haven't even talked about its ability under water, I don't think I have to, if you are a diver you will understand a good dive torch is absolutely necessary.
So if you are looking for a new torch for your cruising or racing yacht, consider the Darkbuster range. They offer free freight from Melbourne and we got ours in 2 days to Darwin. Michael and the team will be willing to assist you in the best choice for you or just visit their website at http://led-diving-lights-aus.com.au/
At the end of the day, a torch is a convenience item and a safety item for all boating enthusiasts. Be willing to spend the extra dollars as it may save a life.