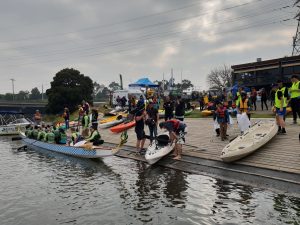 The culmination of our Yarra River Blitz was a Paddle Against Plastic event.  These events are growing rapidly in popularity with paddlers of all types invited to come down and help clean up the river.  We find that by creating a 'Treasure hunt for trash' people start seeing the real state of the waters they paddle on.  Usually before they participate in one of these events they don't see as much debris, however when you start looking for it, you can't stop seeing it, not just on the day but forever.  And if you see it, you can't paddle past it.
We had amazing support for this event.  To allow people without craft to get involved, we sought out suppliers of any paddle craft to help us by supplying craft.  Little did I know how great the support would become.  The team from Aquayak Kayaks were first to respond to my call out.  They are an Australian manufacturer of Kayaks and whilst some may say we are paddling plastic craft to pick up plastic, Paul and the team are dedicated to making sure their products last longer than any other kayak on the market.  Unlike cheap Chinese built kayaks that break up in Australia's UV, these kayaks come with a 10 year warranty, however they are likely to last for a lot longer than that based on the technology of the craft.  And being Australian made, you have the full backing of the factory here in our country.  They not only supplied us craft for 20 paddlers to use on the day, they donated two brand new kayaks to give away as prizes.  And then to my surprise, at the end of the event, they donated two Canoe's and 4 kayaks for us to use at future events.  I was floored by this level of support so if you need a Kayak, please buy Australian made and buy Aquayak.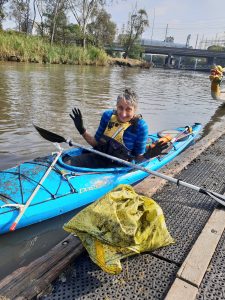 This is the first time we used Eventbrite to have people pre-register.  This process means we have less paperwork on the day and can cater for the numbers easily.  A month out from the event we had sold out of our 150 allocated spots and we had another issue, we needed more craft.  A quick call to Kent from Kayak Melbourne and we had craft for another 16 people.  They run tours on the Yarra so it was a no brainer for them to be involved.
To help make the event awesome on the day, we had band Formidable Vegetable come along.  Initially we had planned to shoot a video clip for their song 'Plastic' however we ended up with much more than that.  They performed throughout the day really creating a great atmosphere for everyone and without them the day would not have been anywhere near as good.  Stay tuned for the video clip of the song which we will release through our YouTube Channel. Follow the channel to be amongst the first to see it when it is released.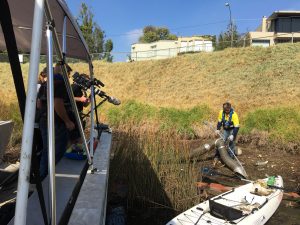 The filming of their video clip wasn't the only filming going on.  We had the pleasure of hosting the team from ABC's War on Waste for the day.  Their first series was a huge success in getting the messages that we promote, out to the public.  We had been contacted by them regarding some of our site statistics and told them of this particular event.  The end result is you should see a segment on series two in around July so keep an eye out for that.  One of the highlights for us that came from that was hearing Craig Raucassel himself say, whilst actually vacuuming the debris up himself, 'how good is this, we are actually doing, not just talking about it!.'
Sorry about the lengthy thank you's to our sponsors but without them these events just wouldn't happen so I will continue.  We-Refill provided a water vending machine that pumps out cold filtered and sparkling water, but that wasn't enough for Brett, he also threw in 100 stainless steel water bottles for people and they disappeared quicker than the rubbish was from the banks.  Campos Coffee came down to keep our volunteers happy and not only did they give away free coffees to those that had their own Keep Cups, they also donated the sales of Keep Cups they provided on the day.  They were pleasantly surprised by the amount of people who had their own cups so the coffee cup movement is working.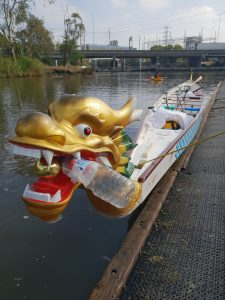 Prizes for volunteers are a great way to reward people for their efforts and in this department we were flooded with generosity.  I've already mentioned the two kayaks from Aquayak, but we also had two $800 vouchers from Tilnak Photography.  These vouchers enabled two lucky volunteers to get a professional photo shoot done and a portrait to take home.  I was so excited when Lisa from the Dragon Boat Association won one of these vouchers.  They had paddled all the way down from Docklands with two Dragon Boats for the day and I knew straight away that she would be selfless and put it towards a photo shoot for the association, rather than herself.  We also had a voucher from Crown Hotels for one nights accommodation and breakfast valued at over $400.  With all these prizes, it's really rewarding to help clean our waterways.
And the final sponsor message, for now, goes to Melbourne Water.  Without them we wouldn't have made it to Melbourne.  They funded our trip as part of their dedication to making our waterways clean and safe for all.  They spend a staggering $1.5 million a year on waterway cleaning.
So the day started and people were turning up with their craft from very early in preparation.  We had a great group of volunteers organised by our friends from Yarra Riverkeeper Association.  They were directing traffic and helping to carry craft down to the launching area.  Just after 0900 we gathered everyone around and held a 'Smoking Ceremony' with Ron from the Wurundjeri Tribal People who spoke about how we need to keep the Yarra Clean, the way it was when the tribal people relied on it for life.
We kicked into the briefing and then it was onto the water.  It didn't take long and bags of rubbish were coming back in their droves.  The paddlers were being watched over by the amazing team from Downunder Rescue in their two inflatable boats, whilst the Dragon Boats and the Outrigger both acted as a base to empty bags into.  At one stage one of the Dragon boats came back with 11 large bags filled to the brim.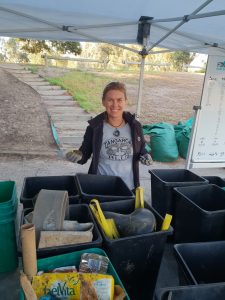 As the bags came back, they were taken straight to the Tangaroa Blue sorting area.  Tangaroa Blue run the Australian Marine Debris Initiative Database which is an essential key to making change at the top.  By finding out what it is we are picking up and where it is coming from we can develop source reduction schemes.  If you ever run any clean up, you need to be adding data.  Check out the resources on the Tangaroa Blue Website for more details.  We had the privilege of having the Queens of Marine Debris, Heidi Taylor, herself on site this day.  I have to tell you that I am so impressed by this lady and what she has achieved.  Meeting her in person, finally, was a real honor and I know we will be running plenty of things together in the future.
By the end of paddling we had collected 97 bags of debris weighing in at a staggering 476kg.  Considering most of the debris was plastic bottles and polystyrene, this was an amazing effort and shows that when you get lots of people together for one cause, you can achieve so much.  The good news is that there will be plenty more events in the future as we have had so much enquiry to run events on the Moonee Ponds Creek, Maribyrnong, Werribee and even on Geelongs Barwon River so make sure you like our Ocean Crusaders Facebook page to keep up to date with everything we are doing.
But most importantly, if you are reading this, then you know about the issue our waterways and oceans are facing.  Our marine life does not have a voice.  We must protect them and stop using plastics and stop littering.  It all starts at the shops.  When you go to purchase your groceries, buy things that are not in plastic.  Refuse plastic wherever possible.  That is the first step in stopping this issue at the source.  Every little bit counts.
See you at our next event in your area, and if we don't have events planned in your area, contact us and we will work with you to make it happen.
And I have to give a very special mention to our partners in the Yarra River Blitz event, Cleanwater Group.  Aaron and Doug were instrumental in making this happen and without their amazing support, this Paddle Against Plastic would not have happened.  I'd also like to thank Nikki from Yarra Riverkeepers for her efforts in getting this event off the ground.  She did countless hours of work in making the event as successful as it was.  Thank you.